Leo Sidran - Cool School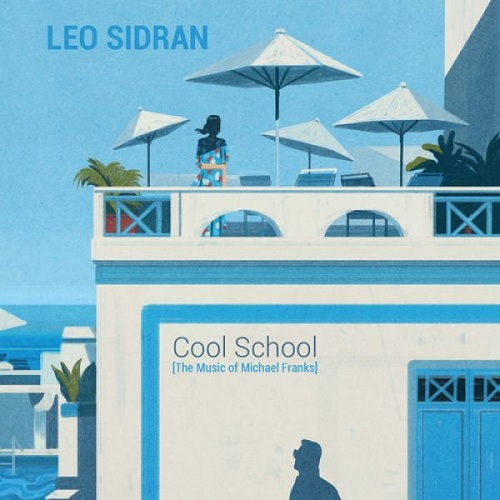 L
Bonsaï / Outhere
Le père, Ben Sidran, et le fils, Leo, collaborent depuis une quinzaine d'années avec le label Bonsaï – on se souvient du récent et très beau "Picture Him Happy" de Ben.
Pour ce "Cool School" consacré à la musique de Michael Franks, le producteur Pierre Darmon nous explique avec conviction le choix du répertoire. La fin des années 70 lui fait découvrir "The Art of Tea" et "Sleeping Gipsy", des 33 tours de Franks qui baignent dans l'atmosphère insouciante et détendue d'un smooth jazz typique de la scène pop-jazz de l'époque :  Larry Carlton, Joe Sample, David Sanborn… puis  Al Jarreau, Bob James, The Crusaders et Ben Sidran lui-même. On pourrait aussi citer l'influence le la musique latine de Jobim ou João Gilberto.
C'est cet univers que Leo Sidran recrée avec  ce "Cool School" sur onze compositions de Michael Franks, dont certaines considérées comme ses hits de l'époque. Ainsi "Monkey See Monkey Do" que Ringo Starr avait repris, ouvre l'album sur des couleurs positives, ambiance californienne. Ou "Popsicles Toes", de l'album "The Art of Tea", un autre tube qui a été repris plus tard par les Manhattan Transfer et Diana Krall. Ou aussi "When The Cookie Jar Is Empty" qui illustre plutôt le passage "East Coast" du chanteur-compositeur.
Pour cet album Leo Sidran s'est entouré d'une quinzaine de musiciens, dont Michael Franks en personne sur le titre éponyme, l'harmoniciste Olivier Ker Ourio sur "Antonio's Song" ou notre nationale Chrystel Wautier dans les chœurs sur la quasi-totalité de l'album et soliste sur "You Were Meant For Me" qui clôture l'album. Une galette bien produite qui, si elle ne renouvèle pas le jazz d'aujourd'hui, rappelle une période insouciante et légère de l'Amérique des années 70/80. Vous l'aurez compris, voici un album qui plaira aux nostalgiques sexagénaires dont je suis, et qui pourrait ouvrir les plus jeunes oreilles à un univers suranné, certes, mais collant bien à un smooth jazz décontracté dont on a bien besoin…

© Jean-Pierre Goffin




Leo Sidran [lead and backing vocals, drums, shaker, bass, acoustic & electric guitar, Wurlitzer, Fender Rhodes, vibraphone]
Michael Franks [vocal on #6],
Clémentine [vocal on #7],
Leo Minax [vocal on #5],
Inor Sotolongo [percussion on #1, 3, 7, 5, 11],
Max Darmon [bass on #1, 4,, 10 & backing vocals on 2],
Alexis Cuadrado [acoustic bass on #11],
Romain Roussouliere [electric guitar on #2, 3],
Lage Lund [electric and nylon string guitars on #6, 11],
John Ellis [flute, bass clarinet, tenor saxophone on #3; 4, 5, 6, 7, 8, 9],
Al Falaschi [tenor saxophone & horn arrangement on #1],
Loic Gayot [saxophone on #2],
Ryan Keberle [trombone on # 5, 6, 9],
Olivier Ker Ourio [chromatic harmonica on #5],
Michael Leonhart [trumpet and flugelhorn on #4, 8, 9, 11],
Jon Schipper [trumpet on #1],
Darren Sterud [trombone on #1],
Ricky Peterson [Hammond organ on #4, 8, 9, 10],
Bryn Roberts [Fender Rhodes on #6, 11],
Gabe Bridgewater [backing vocals on #1, 2, 4, 10],
Joy Dragland [backing vocals on #7],
Trixie Waterbed [backing vocals on #2],
Chrystel Wautier [backing vocals on #1, 2, 3, 5, 8 & vocal on 11].