Lee Konitz: Frescalalto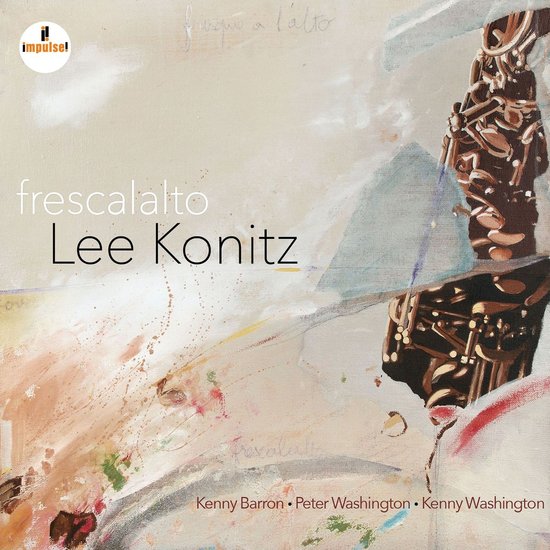 L
Impulse ! / Universal
Nonante printemps bientôt et toujours là ! Des concerts de Lee Konitz, on en a tous le souvenir : Comblain 2015 avec Jeff Denson, souvenir d'un Lee plus présent en voix qu'en souffle, mais des instants magiques comme peu savent encore en servir – Chet était un des rares à nous faire rêver même dans les moments de petite forme.
Comblain 2010 avec son quartet : l'exigence d'un éclairage minimum et l'absence de micros pour un concert mémorable. Bien plus ancien, le souvenir d'un duo avec Hein van de Geyn, l'improvisation dans toute sa finesse, l'envol de deux géants, un son reconnaissable entre cent et une invention de tous les instants. Des enregistrements à la pelle aussi qu'on se repasserait volontiers après avoir dégusté ce tout nouvel enregistrement.
Entouré d'une rythmique américaine présidentielle (les Washington, Kenny et Peter) et nobiliaire (Barron, Kenny au piano), voici Lee Konitz au mieux de sa forme, tant à l'alto qu'au chant. Konitz entame «Stella By Starlight» en solo – une habitude bien ancrée, l'entame ou la conclusion d'une pièce en solo, comme il l'avait fait sur «How Deep Is The Ocean» à Comblain. Solo de Konitz, donc, puis de Barron, ensuite de Peter Washington, enfin de Kenny, avant, après 3 minutes trente, la réunion des quatre pour l'improvisation qui laisse deviner le thème qu'on découvre en fin de parcours… Du grand art.
Si il avait joué à Comblain «317 East 32d Street» sur les harmonies de «Out Of Nowhere», c'est bien la composition de Green-Heyman-Sour qu'il reprend ici, un des compositeurs fétiches de Konitz, lui qui reprend si souvent «Body And Soul». «Invitation» est une perle mélodique, la plus réussie de l'album, «Cherokee» un exemple de changement rythmique qui prouve le trésor inépuisable que représentent les standards, «Darn That Dream», chanté par Konitz, un frissonnant moment de lyrisme partagé en duo avec Kenny Barron. Trois compositions du saxophoniste complètent le répertoire : « Kary's Trance », « Gundula » et « Thingin » où Konitz s'inspire d'un autre standard «All The Things You Are».
Rares sont les jazzmen à être restés fidèles à leur style pendant toute leur carrière, Lee Konitz démontre ici combien ce choix peut être aussi enthousiasmant et servir d'exemple à de nouvelles générations de musiciens.
Jean-Pierre Goffin
Article publié par jazzaround