Lee Konitz / Dan Tepfer - Decade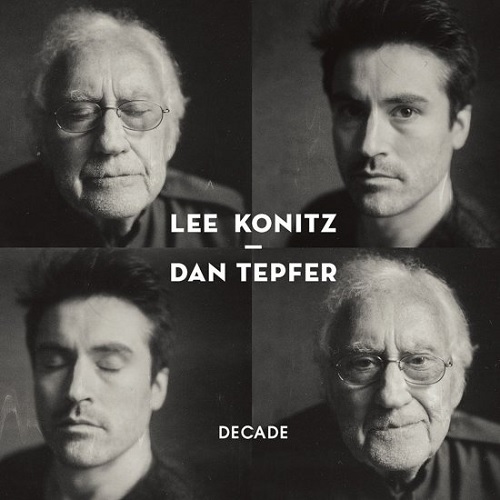 L
Verve/Universal Music
C'est en 2009 lors d'un concert de Bill Carrothers avec Nic Thys et Dré Pallemaerts au Village Vanguard de New York, que j'entends pour la première fois le nom de Dan Tepfer.
Avec Fred Hersch et Marc Copland, il assistait au premier concert de Carrothers depuis des années à New York. Et lors d'une conversation entre deux sets, il me glisse dans les mains son dernier enregistrement, « Duos with Lee » ( Sunnyside, 2008), onze titres quasiment improvisés avec le grand saxophoniste. Depuis, cet album sort régulièrement de ma cédéthèque, comme une référence de ce qu'est une des essences du jazz : une improvisation qui, l'air de rien, sonne comme une composition, pas évident. Par la suite, je suis resté tout aussi émerveillé devant les doubles « Variations Goldberg » du même pianiste, un étonnant croisement entre musique d'aujourd'hui et musique baroque.
Quand sort ces jours-ci « Decade » - allusion au premier album en duo avec Lee Konitz – l'écoute du disque rappelle immanquablement cette première expérience de 2008 : hormis une version de « Body and Soul » chère au saxophoniste – on se souvient d'une émouvante version chantée qu'il en donna il y a quelques années au Festival de Comblain-la-Tour – toutes les pièces sont nées de courtes préparations qui font que tous les morceaux sont en fait des improvisations préparées, enregistrées en différents lieux à des moments différents. Une suite de trois parties, « 9/11 Suite » commémore les événements tragiques de 2001.
Chaque pièce embarque l'auditeur dans un monde onirique plein de rebondissements, Dan Tepfer, quasi impressionniste sur « A Place We know », démontre combien son jeu est subtil, lyrique et inattendu à la fois. Petite jouerie sur un disklavier, « Through The Tunnel » est sans doute la pièce la plus surprenante de l'album avec le chant de Konitz sur la fin. On a beaucoup polémiqué sur le choix de Konitz de chanter, sans doute dans un premier temps une manière d'économiser son souffle, mais son chant colle tellement à son jeu de saxophone qu'il en a fait plus qu'un gimmick lors de ses derniers concerts.
Un disque qui confirme une déjà vieille complicité entre musiciens de générations différentes ( Dan Tepfer a 36 ans, Lee Konitz 90) et qui nous offre un moment de grâce absolue.
© Jean-Pierre Goffin