Laurent Bonnot - Songs for Oscar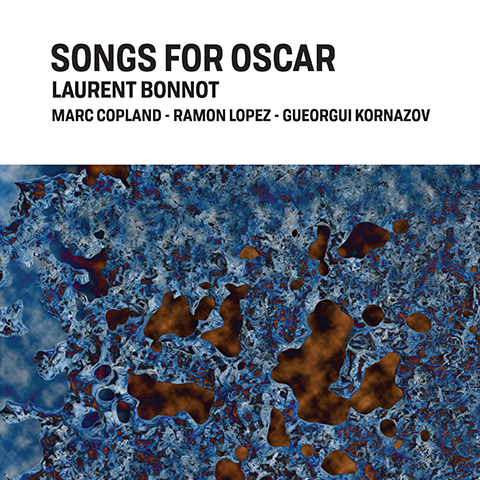 L
Juste une trace
Le Bourguignon Laurent Bonnot, fils d'un accordéoniste, a d'abord étudié le violon et la musique classique, avant de se tourner vers la guitare.
Après un passage au Conservatoire de Dijon, il rejoint le CIM à Paris, il se met à la guitare basse, dans un univers pop-rock, puis s'intéresse au jazz. Il enregistre un premier album, The tonic of masters, avec le guitariste Romain Pilon (présent sur le dernier album de Jean-Paul Estiévenart) et, avec, en invité, Dave Liebman. En 2016, suit Hermit's dream, avec Serge Lazarevitch, Laurent Dehors et Médéric Collignon et, en 2018, Black Lion, avec Manu Codjia (g) ainsi qu'avec les saxophonistes Sylvain Beuf et Pierrick Pedron: du beau monde.
Pour cet album dédié à son fils, il a réuni, dans sa "bande à Bonnot", une fameuse équipe.
Au trombone, le bouillant Gueorgui Kornazov, un des plus percutants sur cet instrument vrombissant. Né en 1971, le Bulgare a rejoint Paris et son Conservatoire en 1995. Très vite remarqué, il a fait partie de l'ONJ de Didier Levallet puis de celui de Paolo Damiani. Preuve de son talent, il a fait partie du Strada Sextet d'Henri Texier comme de Danzas de Jean-Marie Machado, il a formé l'Horizons Quintet avec le saxophoniste Emile Parisien et enregistré G meets K, avec Kenny Wheeler.
Au piano, l'Américain Marc Copland qu'on a pu découvrir avec Robin Verheyen (When the birds leave) mais aussi avec John Abercrombie et Kenny Wheeler (That's for sure et Brand new), avec Ralph Towner (Songs without end), avec Gary Peacock et Paul Motian (New York Trio) ou Dave Liebman (Quint5t).
A la batterie et aux percussions, Ramon Lopez. Natif d'Alicante, il a rejoint Paris en 1985 et s'est intéressé à la musique indienne. Il a fait partie, comme Georgui, de l'ONJ de Didier Lrevallet, et, à la suite d'un concert de Max Roach, s'est passionné pour le concert solo (comme à Arthome d'Oupeye). Il a collaboré avec le contrebassiste anglais Barry Guy et le pianiste espagnol Agusti Fernandez, en trio pour Morning Glory (concert au Jazz!Brugge), en sextet avec Herb Robertson (Freedom Now Sextet).
Il y a deux façons d'aborder la guitare basse, soit se limiter au côté basse électrique, très monolithique, limitée à un rôle rythmique, soit l'appréhender comme une guitare capable de développer une orientation mélodique, comme le fait Steve Swallow (rappelez-vous les albums avec Henri Texier).
C'est tout l'art de Laurent Bonnot comme le montre, dès le début, Under the midnight clouds, une des huit compositions originales de l'album. S'il se montre très expansif à certains moments (The flight of the cursed poets), Marc Copland peut aussi se montrer très lyrique, sur des thèmes très mélodiques (Oscar's Songs, Another crazy breath) et, lors de volutes en circonvolutions obsédantes, il laisse beaucoup de place à l'imagination percussive de Ramon Lopez (Under the midnight clouds), une imagination qui le pousse, sur l'intro de He sang a misty song, de mêler batterie et tablas.
Tout au long de l'album, Gueorgui Kornazov peut donner libre cours à créativité et à son inventivité, avec une sonorité éclatante, capable d'utiliser tous les registres de l'instrument, comme le trombone bouché sur He sang a misty song.
A côté des huit compositions très originales de Laurent Bonnot, une version très originale de Autumn leaves emmenée par Gueorgui.
Un album passionnant de bout en bout, réunissant quatre horizons différents mais parfaitement complémentaires.
© Claude Loxhay