Lamar - Lamar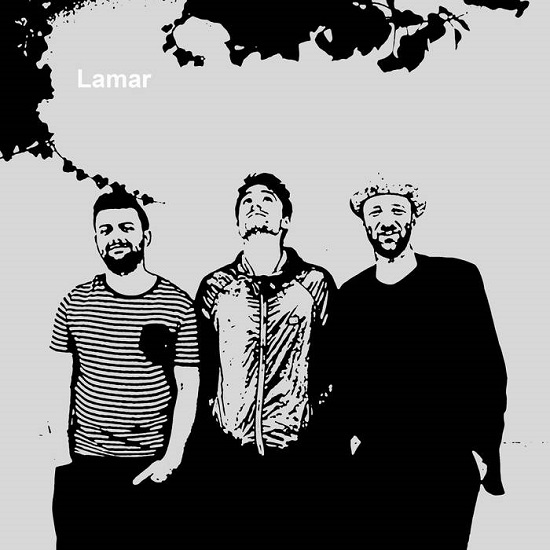 L
Chopstick Records
Lamar ist ein Trio um Mathias Van de Wiele (el./acoustic guitar, horn) und umfasst zudem Artan Buleshkaj (electric guitar) and Laurens Van Bouwelen (drums, electronics). Sie präsentieren freie Improvisationen zwischen Abstraktion und melodischen Anklängen. Zugleich erscheinen die Improvisationen als ein fein gewebtes Netz von Kontrasten, als Kontrapunkte, als Effekt geladen, als feinste Klanglandschaften. Zu hören sind Titel wie "Balance", "Beware Of The Wylde", "Airial", "Preset Focus" und "If You Can Get It Broken, You Can Get It Fixed".
"Balance" wird mit einem veritablen Schlagzeugsolo eröffnet. Hier und da mischen sich nachhallende Gitarrenklänge bei. Unaufhaltsam setzt sich das Schlagwerk durch und lässt sich von den Saitenklanginterventionen nicht vom Rhythmus und Duktus  abbringen. Und dann ist überraschend Schluss.
Elektronische Sequenzen gepaart mit Gitarren-Stakkatos machen " Beware Of The Wylde" aus. Das klingt wild, chaotisch, nach Krawall und Rabatz. Die elektrischen Gitarren scheinen außer Rand und Band zu sein, und der Zuhörer fragt sich, wohin das führen wird, derweil er lauscht. Untergründig rumort es, brummt und schwirrt es. Kristalline Klangbilder liegen über dem Rumoren und dem wilden Rabatz. Zum Ende zu fransen diese Klangbilder aus. Auch eine akustische Gitarre beteiligt sich dank Mathias Van de Wiele an den Improvisationen von Lamar. Solistisch lenkt sie die Aufmerksamkeit in "Airial" auf sich. Im Hintergrund, gleichsam aus dem Off, weht ein elektronisch angehauchter Klangvorhang ans Ohr des Hörers, ein Kontrapunkt zur akustischen Gitarre ans Ohr des Zuhörers, ehe es zu einem Dialog zwischen elektrischer und akustischer Gitarre kommt, durchaus dem Melodiösen zugetan. Das Wechselspiel der Gitarren macht den besonderen Reiz dieses Stücks aus. Nachfolgend vernimmt man in "Preset Focus" eine Posaune (?) neben den Saiteninstrumenten und elektronischen Verzerrungen. Darüber hinaus gibt es noch viel Blech des Schlagwerks als Beiwerk. Mit "If You Can Get It Broken, You Can Get It Fixed" beschließt das Trio seine Improvisationen, die niemals überbordend daherkommen und so den Zuhörer auch nicht überfordern.
Text: © fdp
Informationen:
https://chopstick-records.bandcamp.com/album/lamar