Junk Magic – Compass Confusion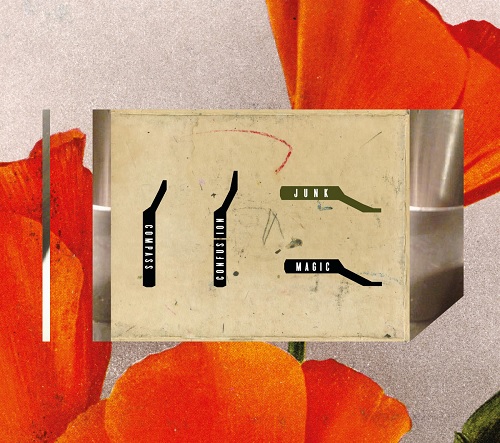 J
Pyroclastic Records
Craig Taborn kruipt na zestien jaar terug in de huid van zijn alter ego Junk Magic. Zet je schrap voor een flinke portie acoustic-electro spielereien die de pianist uittekent samen met vier super dudes uit zijn vertrouwde biotoop.
Net als het debuut 'Junk Magic' is 'Compass Confusion' opgedeeld in zeven delen en dit met veelzeggende titels als 'Laser Beaming Heart', 'Dream And Guess' 'Sunsets Forever' of nog 'The Science Of Why Devils Smell Like Sulfur'. De poëtische kant werd behouden, ook al werd nu meer aandacht besteed aan de productie dan vorige keer. Gelaagde sound design en interactief spel vullen elkaar organisch aan.
Taborn zelf spreekt van heroriëntatie in verschillende etappes. Elk nummer bevat zo eigen geledingen en ontleent stijlelementen aan zowel breakbeat en hiphop als ambient en "reguliere" composities. Klinkt cerebraal? Vergeet niet dat dit Taborn is maar zijn muziek blijft genietbaar op alle vlakken en voor iedereen, ook zonder eclectische achtergrondinformatie. Dat is de kracht van zijn werk, toegankelijk en vooral interessant op diverse manieren. Dat hier geen cut-up of collagetechnieken aan te pas kwamen, heeft daar natuurlijk een en ander mee te maken. Wat je hoort, is ook zo gespeeld. Het improvisatie-element bleef daarbij overal gegarandeerd.
Toch graag even een sample beluisteren alvorens de hele cd te ontdekken? De openingstrack ('Laser Beaming Hearts', zie video onder dit artikel) is de gepaste kennismaking. De "industrial" spacy soundscape gelardeerd met wat glitch effecten wordt aan de hand van (drum)beats geleidelijk omgebogen. Van hieruit gaat het verschillende kanten uit en wordt de puzzel alsmaar ingewikkelder. Er duiken heel wat parallellen op met de soundtracks van John Carpenter en de filmmuziek van 'Close Encounters Of The Third Kind' ('Compass Confusion/Little Love Gods'). Korte bloedstollende excessen gaan vooraf aan sombere en haast verstikkende impropassages. Het leidt tot een kat-en-muisspel van versluieren en openbaren.
Dit vervolg is bovenal een enigszins verrassend verder borduren op het debuut door de meer experimentele aanpak. Ideaal om Philip K. Dick zijn 'Do Androids Dream Of Electric Sheep?' te (her)lezen. Ook voor fans van Fennesz en Mort Garson.
© Georges Tonla Briquet



Musici:
Craig Taborn: piano; toesten, synthesizer
Chris Speed: saxofoon
Erik Fratzke: bas
Mat Maneri: viola
David King: drums

www.craigtaborn.com