Jakob Bro - Gefion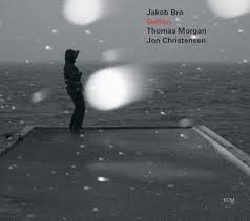 J
ECM Records
door Henning Bolte op 16 februari 2015
Gitarist Jakob Bro vindt het melodische opnieuw uit. "Gefion" is Bro's ECM-debuut als leider. Samen met bassist Thomas Morgan is hij hier in trio met drumlegende Jon Christensen uit Noorwegen te horen.
De Deense gitarist Jakob Bro (1978) mag sinds zijn spraakmakende Balladeering-trilogie met Lee Konitz, Bill Frisell, Paul Motian, Thomas Morgan en Craig Taborn tot de kring van internationale topmusici gerekend worden. Hij was in de laatste Paul Motian Band te vinden evenals nu in het kwintet van Tomasz Stanko (met albums op ECM in 2005 en 2009) en nam als laatste een dubbelalbum met bijdragen van o.m. Paul Bley, Kenny Wheeler, David Virelles en Oscar Noriega op – aangevuld met remixes/rebuilts van elektronicus Thomas Knak aka Opiate (onder meer co-componist op Björks Vespertine). Tot zijn muzikale partners horen verder o.m. Joey Baron, Jim Black, Kurt Rosenwinkel, Chris Cheek, Mark Turner en Chris Speed.
Bro vindt het melodische opnieuw uit en doet dat buitengewoon lucide. Met zijn stemmige en sfeervolle melodische kernen zoekt Bro telkens de ondergrens van de dynamica op. Hij opent daarmee verbazingwekkende ruimtes waarin de individuele stemmen zich vol overgave golvend kunnen ontplooien en als een Möbiusband door slingeren. Het zijn ruimten van grote eenvoud, elegante lichtheid en expressieve diepte. Bros subtiel gebruik van loopings en delay, die steeds als compositorisch middel fungeren, liggen vaak buiten het niveau van bewuste waarneming wat hun sublieme werking slechts vergroot.
De melodische kernen en eenvoudige compositorische kaders vormen uitgangspunten die een heel veld van mogelijkheden openen. Het is telkens een open proces dat verrassende richtingen op kan gaan en tot creatieve inpassing nopt. Christensen is de tovenaar in het geheel. Hij zorgt met zijn accentueringen niet alleen voor bijzondere texturen, Hij kan het spel verrassende kanten op laten gaan. Hij hoort dingen die de luisteraar vervolgens door zijn spel kan bespeuren. Verbazingwekkend zijn ook de contrasten die het album biedt. 'And Then They Came Marching Out Of The Woods' wordt door een mooi groovende baslijn gedragen die voortkomt uit de bassolo waarmee het stuk opent. In 'Lyskaster' (lichtprojector) daarentegen heeft de klankarticulatie iets weg van het langzame tempo in het late werk van Yusef Lateef. De klanken vloeien als lichtgolven. 'Gefion', het openingsstuk heeft onmiskenbaar trekken van de muziek van Paul Motian en in het laatste stuk, 'Ending', kun je nog eens getuige worden van de wonderschone trekken van het unieke spel van Jon Christensen.
Een mooi album met uitzonderlijke, innemende muziek!
AUDIO Gefion
VIDEO Jakob Bro: Sketches Of Sound. Louisiana Museum of Modern Art in Kopenhagen
RADIO
Concertzender – muziek van vroegere albums van Jakob Bro ON DEMAND
Concertzender – Stukken uit Gefion en Bros eigen keuze van stukken (van Jon Christensen, Paul Motian en Lee Konitz) die hem inspireren
Tracklisting Gefion:
Gefion
Copenhagen
And Then They Came Marching Out Of The Woods
White
Lyskaster
Airport Poem
Oktober
Ending

kwotering: 4.5/5