Julien Tassin – Sweet Tension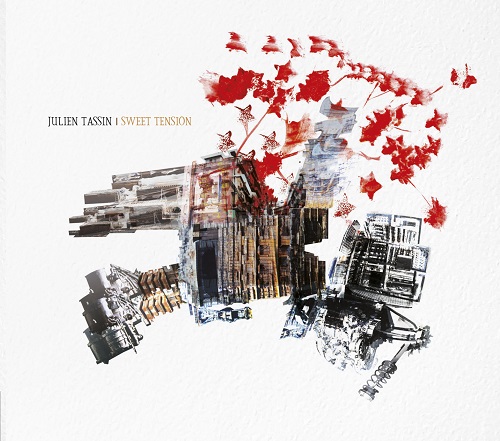 J
Igloo
Met 'Sweet Tension' conceptualiseert de Belgische gitarist Julien Tassin zijn persoonlijke kijk op de rol van de gitaar in de huidige jazzcontext. Met de hulp van bassist Nicolas Thys en drummer Dré Pallemaerts zijn de optredens bovendien telkens een belevenis. Een revelatie.
Julien Tassin (°1982) is niet meteen een van de meest opvallende protagonisten van de Belgische jazzscene. Met zijn debuut voor Igloo komt daar hopelijk wat verandering in. 'Sweet Tension' vat zijn afgelegde weg in elk geval mooi samen. Van blues via rock kwam hij bij jazz terecht zonder zijn verleden te verloochenen.
Het licht folkgekleurde openingsnummer met een donkere ondertoon, de beginselen van een semi-akoestisch deuntje en een verrassend oprispende spanningsboog, wijst meteen op het aanwezige potentieel. De drie leggen het heel economisch aan boord zonder dat er een dood moment tussen zit. Tassin in de rol van Gilad Hekselman als het ware met twee meesters in de kunst van de begeleiding. Deze intrigerende kennismaking zet alvast aan om verder te luisteren.
In schril contrast hiermee volgt 'Escape', een hoofdknik naar de jazzrock van eind jaren zestig toen John Scofield en John McLaughlin de geloofsbrieven van het genre schreven. Met op het einde effecten à la Pierre Henry! Via 'Ghost Town' belanden we vervolgens in Bill Frisell-land. Laidback americana met geleidelijk aan meer en meer ruwe kantjes. De Scofield-invloed komt hier eveneens weer naar boven, net zoals later nog meerdere malen te horen is. Het spel van tijd en ruimte wordt heel vakkundig uitgediept in 'Housewives' en later in 'Green Lady'. Het melodieuze 'Le Blues' lijkt dan weer zo uit de catalogus van The Beatles geplukt terwijl 'Last Call From The Factory' een oefening is in meer gelaagde structuren. Hier sijpelen invloeden van Stevie Ray Vaughan door. 'George Harrison' is een heel intimistische ode aan zijn favoriete lid van The Beatles met toch ook een stevige knipoog naar zijn eerste gitaarleraar Paolo Radoni.
'Sweet Tension' draait rond een zeer verzorgde esthetiek van verhalende instrumentale muziek die veel verder reikt dan jazz. Het geflirt tussen agressief en assertief levert daarbij uiterst spannende passages op. Julien Tassin is helaas geen lid van een of andere hippe groep. Hopelijk blijft hij hierdoor niet onder de radar want deze jongeman out zich als een veelzijdig en fantasierijk gitarist. Het dynamische duo Thys-Pallemaerts levert hem met perfecte timing de bijpassende ritmen en juiste grooves aan. Internationale topkwaliteit.


Julien Tassin: gitaar
Nicolas Thys: contrabas
Dré Pallemaerts: drums

Live 2018
20.10: L'An Vert (Luik)
28.10: Wolwinkel (Geel)
17.11: La Conserve (Leuven)
26.01: Cultureel Centrum (Moeskroen)
02.02: Jazzstation (Brussel)
© Georges Tonla Briquet