Julien Alour Quintet - Cosmic Dance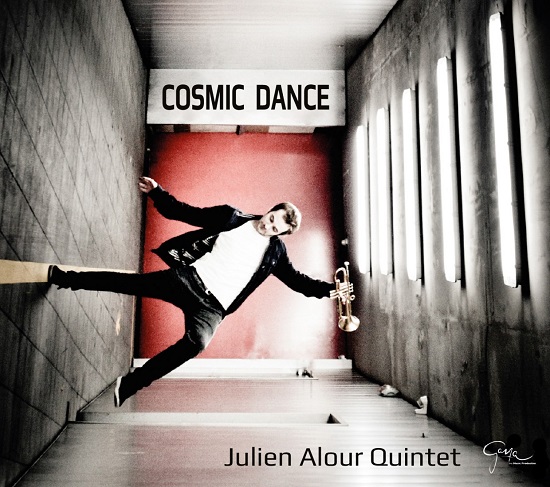 J
Socadisc
Ce qui frappe dès la première écoute de cet album, c'est l'extrême homogénéité du quintet, une réelle complicité qui s'explique en partie par le parcours des 5 musiciens.
Né à Quimper, le trompettiste Julien Alour a d'abord étudié la musique classique avant de gagner la capitale pour s'inscrire à l'I.A.C.P. (Institut for Artistic and Cultural Perception, fondé, au départ, par Alan Silva), notamment avec Stéphane Belmondo comme professeur, puis au Conservatoire de Paris, dans la classe de jazz. Le trompettiste a collaboré avec les frères Belmondo, les saxophonistes Jean-Philippe Scali et Jacques Schwartz-Bart ainsi qu'avec notre compatriote Eric Legnini (albums Sing Twice et The Vox). Il a aussi joué à New York avec Seamus Blake et formé ce quintet avec lequel il a d'abord enregistré Williwaw.
Saxophoniste d'origine canadienne, François Théberge a succédé à François Jeanneau au Conservatoire de Paris. En Belgique, on l'avait découvert, dans les années '90, avec le saxophoniste américain Andy Middleton. Grand admirateur de Lee Konitz, il a d'abord enregistré The Music of Lee Konitz puis, Soliloque en compagnie du saxophoniste alto américain. Dernièrement, il a fait partie de l'orchestre d'Archie Shepp pour le projet Attica Blues et joué au sein du quartet puis du big band de Hans Köller, avec Steve Swallow à la basse.
Au piano, on retrouve Adrien Chicot qui, après un passage à l'American School of Modern Music, a rejoint, comme Alour, à l'I.A.C.P., auprès des frères Belmondo. Très inspiré par le jeu de Mc Coy Tyner et Herbie Hancock, il a enregistré All in, en trio, avec Sylvain Romano et Jean-Pierre Arnaud.
Le contrebassiste Sylvain Romano a croisé les mêmes musiciens puisqu'il a enregistré Wonderland de Stéphane Belmondo (avec Legnini au piano), fait partie du Belmondo-Lateef Sextet et du sextet Théberge-Konitz.
Formé au Conservatoire de Marseille, le batteur Jean-Pierre Arnaud a croisé la crême du jazz français: Barney Wilen, Alain Jean-Marie, Michel Legrand, les Belmondo ou Eric Le Lann (album Today I fall in love, avec Legnini au piano).
En parfaite continuité avec Williwaw, Julien Alour propose, au travers de compositions originales, un hard bop au groove survolté joué à la trompette, avec une sonorité éclatante (Super Lateef, Le bal des panthères, Black Hole in D), c'est à la trompette aussi qu'on le retrouve pour Think of one de Monk. Au bugle, il interprète des ballades (Chrysalide, Big Bang) qui alternent avec des mélodies dansantes (Cosmic Dance) et des tempos plus apaisés (Solstice, Eternel), toujours en complicité avec la sonorité franche du ténor de Théberge et les envolées du piano galvanisées par une rythmique sans faille.
Un disque qui comblera tous ceux qui ont découvert Julien Alour aux côtés d'Eric Legnini.

Claude Loxhay