Julia Zipprick: By My Side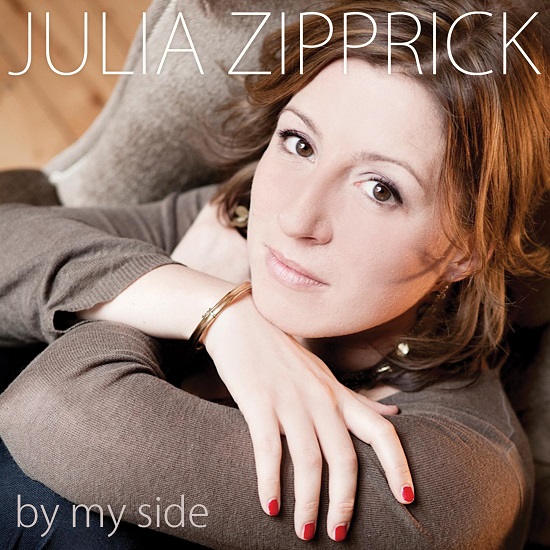 J
Mons Records, MR 874 567
Wer das Debütalbum Julia Zipprick – mit Fug und Recht kann man sie als Singer-Songwriter bezeichnen – anhört, der traut zunächst seinen Ohren nicht. Es swingt in den höchsten Tönen, bisweilen auch mit tiefen Tönen. Neben Standards von Cole Porter ('So in love') und Duke Ellington ('Caravan') sind es ausschließlich Eigengewächse, die uns die in Köln lebende Künstlerin präsentiert. Doch was wäre eine Vokalistin ohne eine Band, die mit Feingefühl auch die Stimmungen der Songs musikalisch begleitet und mit Phrasierungen versieht? Nichts! Daher seien die Namen derer genannt, die mit Zipprick das Projekt ' By my Side' gestemmt haben: Annette Maye (Klarinette), Martin Sasse (Piano), Johannes Behr (Gitarre), Matthias Strucken (Marimbafon, Vibrafon und Glockenspiel), Jochen Schaal (Kontrabass) und schlussendlich noch Leif Battermann am Schlagzeug.
Der Rezensent will nicht verhehlen, dass er bei der ersten "Durchsicht" der CD an Roger Cicero, aber auch an Hildegard Knef und die 'Garde der deutschen Liedermacher' denken musste, die sich klipp und klar gegen den von Hitparadengier geleiteten deutschen Schlager positioniert haben. Zugleich mit diesen Assoziationen trat eine weitere hinzu: swingender Pop Jazz, wenn eine solche Kategorisierung überhaupt den Kern der Musik von Julia Zipprick umfassend abbildet. Bezogen auf die Texte der Eigenkompositionen scheint die Sängerin durchaus in das Genre von Couplet und Chanson zu passen. Dabei meint Chanson nicht die klassische französische Liedkunst, sondern die deutsche Variante, die die Knef, aber auch eine Sängerin wie Alexandra verkörperten.
Wohltuend sind die "Liebesschwüre", die uns Zipprick ganz abseits des Verkitschten, zu Gehör bringt. Witz, Ironie, Humor – sie begleiten diese Texte, die der Zuhörer sich wohl stets mit einem gewissen Augenzwinkern denken muss.
Mit einem eingängigen Intro des Vibrafonisten Mattias Strucken beginnt das "Liebesgeständnis" 'Now that I found you': "I don't know what it was ..." - mit dieser Verszeile setzt dann Zippricks Gesang ein. Nein, länger als einen Tag, kann man es ohne den anderen auch nicht aushalten, wenn man endlich den Richtigen/die Richtige gefunden hat, so ist im weiteren Verlauf des Songs zu vernehmen. Bereits im ersten Song bekommen die Musiker der Band Gelegenheit in Soli zu brillieren, so auch der stark akzentuiert spielende Pianist Martin Sasse. Doch ansonsten ordnet sich die Band schon der notierten Komposition unter und schwelgt nicht in Improvisationen. Es geht ja auch um verjazzte Songs und nicht um freies Spiel.
Getragen kommt 'We're through' zunächst daher, das zweite Stück der Einspielungen. Doch im Laufe der Komposition ändern sich die Metrik und auch das Tempo. Dennoch muss festgehalten werden: Lyrisch ist das Spiel der Klarinettistin Annette Maye, fließend-plätschernd erscheint der Klangteppich, den das Vibrafon erzeugt.
Auf deutschsprachige Liedtexte hat die Künstlerin bei ihrem Debüt-Album nicht verzichtet – das ist in Zeiten zunehmender Anglisierung besonders hervorzuheben. Bei den deutschen Songs entfaltet sich ihr Sinn für sprachliche Feinheiten, nicht nur bei 'Lieblingsumarmer'. In Latin Jazz ist 'Es gibt mehr' eingehüllt. "Du meinst Du würdest mich schon kennen. Du sagst, ich sei dir schon so wahnsinnig vertraut …". Doch da hat Mann die Rechnung wohl ohne die Angebetete gemacht: "Es gibt mehr als nur einen, an den ich denk, dem ich meine wildesten Träume schenk ..." heißt es nachfolgend. Tja, so ist halt die Liebe, unberechenbar – oder?
Zweisamkeit und Alleinsein thematisiert die Sängerin in dem Swingtitel 'Wo finde ich den?'. Und stets ist da der Sinn nach dem gemeinsamen Aufstehen und nach dem gemeinsam ins Bett gehen, nach dem Wegfahren und Wiederkommen sowie, das Bestreben, Neues zu entdecken und Altes zu ertragen – ja Beziehungsalltag pur. Nach all dem "Beziehungsgeklage" von Zipprick setzen dann Strucken mit seinen Vibrafonpassagen und Sasse mit seinen Pianotakten ein – lauschenswerte Kontrapunkte im Duett.
Dezent-bluesig stellt uns Julia Tipprick ihren 'Lieblingsumarmer' vor. Doch um es klar zu sagen: Die Umarmungen sind rein freundschaftlich, wie es im Text auch heißt. Sollen wir das wirklich glauben?
Bossa Nova oder doch Bolero – das fragt man sich bei Porters 'So in love', mit dem zur vorherigen Einspielung auch die Klangfarbe wechselt und Zipprick auch die Tiefen ihrer Stimme ausleben kann. Johannes Behr kann sich dank eines Solos nun auch sein Können auf der Gitarre unter Beweis stellen. Zudem finden wir weitere deutschsprachige Texte in Songs wie 'Mein Herz hat heut' Premiere' und 'In Allem', auf deren "Botschaften" der Zuhörer unbedingt achten sollte.
Fazit: Julia Zipprick hat fürwahr ein gelungenes Statement mit einer teilweise glockenhellen Stimme abgegeben. Wer hören will, der wird die Botschaft auch hören.
© text: Ferdinand Dupuis-Panther
Press Release by Mons Records
Whatever Julia Zipprick does, she does well. With her long-awaited debut album By My Side, the Cologne-based artist draws together a passionate overview of her previous musical output.
That essence which lends her a steadily growing fan base at concerts, has finally found its way onto a recording: a dozen, mostly self-written songs, which illuminate the many facets of her vocal, musical and compositional skills.
Starting with a superb declaration of love 'Now that I found you', the dyed-in-the-wool singer leads us on her album through the entire human drama: she tells about searching and experimenting, leaving and missing, of her "darling embracer" and realizes that "I can't do anything about it. That's just the way some things are". In doing so, her compositions brilliantly and very sensitively follow the loud and soft sounds of the literary coloratura within her texts, which are refreshingly straightforward and use both German and English.
Outstanding musicians and delightful instrumentation such as the marimba, glockenspiel and clarinet, provide for a musical treat. They colour the music richly and powerfully, even trendily tender; sometimes nostalgic, sometimes Caribbean, sometimes almost childlike.
Honest and direct, reflective and sensual, serious and sometimes melancholy, but always with a subtle wink and an unerring sense for the right amount of humour. With subtle melodies, striking as well as haunting rhythms, and using both poetic and direct words, Julia Zipprick describes an entire emotional universe.
By My Side is a very personal statement by the vocalist, songwriter and composer, Julia Zipprick. Through her artistry, she is able to tell stories that will remain relevant for a long, long time!
About Julia Zipprick
From the Ruhr and now living in Cologne, she studied singing at the Cologne University of Music and the Complete Vocal Institute in Copenhagen. Even during her studies, her distinctive voice could be heard in a variety of projects and band line-ups, be it the National Youth Jazz Orchestra, her own band, in a capella groups or as a background singer live and on TV with artists such as Jamie Cullum or Stefanie Heinzmann. Concert tours have taken Julia Zipprick across Europe, Asia and Central America, and have inspired the singer's musical development.
Informationen
Kontakt Plattenlabel: kontakt@monsrecords.de This e-mail address is being protected from spambots. You need JavaScript enabled to view it
Künstlerpage: http://www.juliazipprick.de/
Promovideo: https://www.youtube.com/watch?v=Nx5O7j8TdX0