Jürgen Augusteyns - Moeilijk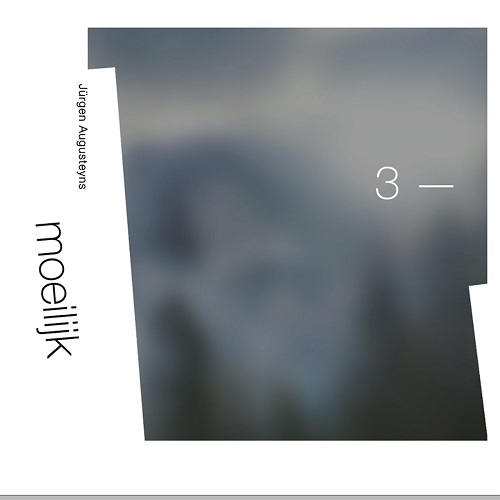 J
Off Records
Nach der EP "Das ewige Ende // Dyptich" (ODG108) legt Jürgen Augusteyns nunmehr das neue Album namens "Moeilijk" mit fünf Tracks vor, komponiert auf dem Fender Rhodes. Entstanden sind die minimalistisch improvisierten Stücke als Teil eines Ausflugs an die Nordsee an einem späten Sommernachmittag. Ausgangspunkt der musikalischen Exkursion ist dabei Brügge. O-Ton zur Musik: ""Moeilijk" is a collection of 5 improvised pieces on solo electric piano and/or synths. I like to refer to them as "Nederlandstalige instrumentale muziek". This EP contains some of the most personal and vulnerable music I have ever made. This is as "Sturm und Drang" and as sincere as I can get musically. I hope you enjoy listening to this music as much as I enjoyed playing it."
Ausgangspunkt der Exkursion ist "Brugse Poort Voor Dag En Dauw", gefolgt von "Kamerreizen" und "Moeilijk". Mit "Oorlogsmoeheid (Krater)" und "Het Einde Van De Zomervakantie" endet die sommerliche Exkursion.

Gleich zu Beginn umfängt uns eine Musik, die an das Fallen von Regentropfen von durchnässten Blättern denken lässt. Zugleich evoziert die Musik eine dichte Nebelbank, die über Brügge liegt. Die Kanäle der Stadt versinken im Grau und man muss beim Zuhören vielleicht auch an die symbolistischen Stadtansichten denken, die Fernand Khnopff hinterlassen hat. Brügge scheint eher tot und verstummt, denn sommerlich lebendig. Zugleich mit Khnopff muss man auch an Brel denken, der ein Flandern besingt, das von den tief liegenden Wolken geküsst wird und flach wie ein grünes Kuchenblech erscheint.

Nein, nicht jeder ist unterwegs, wenn er reist. Der eine oder andere lässt sich auch von Reisen in seiner Fantasie einfangen und ist dabei zuhause: "Kamerreizen". Musikalische Sinuskurven breiten sich aus, nehmen Raum ein, verlieren sich, tauchen wieder auf, nie aufgewühlt und expressiv, sondern eher linear, verhalten und beinahe Kontemplation heraufbeschwörend. An säuselnden Wind muss man beim Zuhören denken, an Gezeitenströme, die kommen und gehen.

 "Moeilijk" heißt es nachfolgend: Anschwellende und nachlassende Klangwalzen entwickeln sich nach und nach, überlagernde Vibrationen sind wahrnehmbar, beinahe an die Geräuschkulisse eines Industriebetriebs erinnernd. Sirenenhaftes ist beigemischt. Unablässiges Surren und Schwirren sind zu hören, so als habe
 man den Flügelschlag von Hummeln, Bienen und anderen Insekten verstärkt und mit dem Mikrofon ganz hautnah eingefangen.

Zum Schluss heißt e dann: "Het Einde Van De Zomervakantie". Denkt man bei Sommerferien nicht an Ausgelassenheit, an Entspannung, ans Vergessen des Alltags? Gewiss, doch ausgelassen ist die Musik von Jürgen Augusteyns ganz und gar nicht. Auch in diesem Stück bleibt sich der Musiker in seiner minimalistischen Klangcollage treu. Da gibt es kein Ausschweifen, sondern eher das Verharren in flächigen Klängen, in Schummerungen und Schraffuren.
Text © ferdinand dupuis-panther

Informationen