Jozef Dumoulin Orca Noise Unit – A Beginner's Guide To Diving And Flying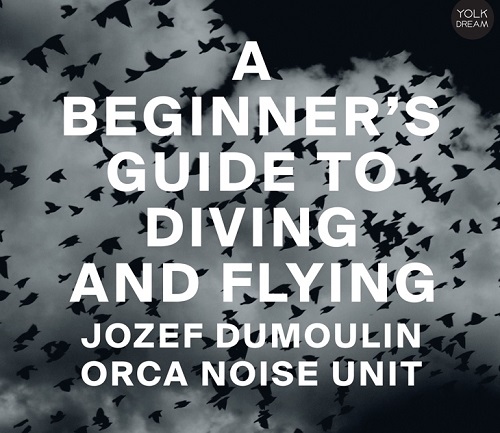 J
Yolk
Jozef Dumoulin kruipt in de huid van een improviserende pianist en gaat met vier gelijkgestemde kompanen op avonturentocht in een fascinerende droomwereld.
Het idee van deze groep had hij al lang in het hoofd, alleen draaide de uitwerking net wat anders uit dan hij zich voorstelde. Van bij de eerste sessies bleek namelijk dat de fantasie en het improvisatietalent van het gezelschap dergelijk sterke troeven waren dat Dumoulin zijn partituren volledig opzijschoof en zich mee liet drijven met de muzikale flow die spontaan ontstond. 'A Beginner's Guide To Diving And Flying' werd zo een intrigerende trip zonder gebruik te maken van psychedelica.



De minimalistische poëet Dumoulin stapt eerst naar voor. Disparate pianonoten langzaam aan in samenspel met wat baslijnen zetten de toon. Fluitiste Sylvaine Hélary zorgt voor de eerste rimpels in dit spiegelgladde en ogenschijnlijk vredige oppervlak. Stilaan komt er echter een hele onderliggende wereld tot leven waarin ook andere personages opduiken. Deuren worden geopend naar parallelle werelden, net zoals in 'Alice in Wonderland' en 'Arthur And The Minimoys'.
Niet toevallig kregen de eerste tracks titels als 'So Above, So Below' en 'The Garden'. Vanaf 'Imagined Rotation' worden op een subtiel speelse manier details onthuld van een verborgen universum. Titels als 'Peering And Palpitation', 'Breathing Under Water' en 'Little Flower Expanding' geven een idee van welke richting het allemaal uit kan gaan. Slechts een paar keer duiken onverwachte wendingen op die het haast bucolische karakter compleet verstoren en een mini horroreffect oproepen.
Dumoulin gaf zichzelf en zijn medemuzikanten de naam van "Oneironauts" (anagram van Orca Noise Unit) wat zoveel betekent als avonturiers die in droomwerelden op verkenning gaan. Deze eerste bundel bevat in totaal vijftien impressies die variëren tussen een minuut en zes minuten. Dat geluidsmagiër Dré Pallemaerts instond voor mixing en mastering is niet toevallig.
Tim Burton zal dit zeker goedkeurend beluisteren. Een cd die vooral perfect aansluit bij de huidige stroming bepaald door labels als granvat en Aspen Edities.
Jozef Dumoulin: piano, percussive
Bruno Chevillon: bas
Toma Gouband: percussive
Sylvaine Hélary: fluit
Antonin Tri Hoang: saxofoon, clarinet, percussive
© Georges Tonla Briquet