Joyce Moreno - Kenny Werner: Poesia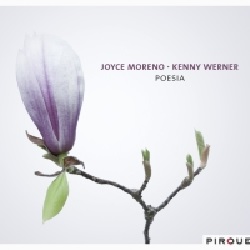 J
Pirouet Records
La rencontre entre deux personnalités à la discographie abondante: une trentaine albums pour Joyce Moreno, plus d'une vingtaine pour Kenny Werner.
Si l'on connaît bien le pianiste américain, complice de Joe Lovano, Toots ou du BJO et auteur d'un précédent album Pirouet (The Melody, chroniqué sur jazz'halo.be), on connaît peut-être moins la chanteuse brésilienne, née à Rio en 1948. Découverte par le compositeur Roberto Menescal alors qu'elle n'avait encore que 16 ans, elle est présentée comme l'une des figures marquantes de la Creative Music of Brazil: "One of the best singers of all times", proclame Antonio Carlos Jobim. Elle a enregistré son premier album, "Joyce", en 1968, a ensuite rencontré de fortes personnalités comme Egberto Gismonti ou Toninho Horta. Très attirée par les chansons d'Antonio Carlos Jobim, elle a gravé "Tom Jobim os años 60" en 1987 et un "Celebrating Jobim" avec le WDR Big Band.
Elle avait déjà croisé Kenny Werner à deux reprises, pour "Music inside" en 1990 et "Language and love" en '91. On peut ainsi parler de retrouvailles pour cet album enregistré en mai 2014 à New York.
Pour ce "Poesia" tout empreint de nostalgie, la chanteuse a évidemment choisi une série de chansons brésiliennes Olha Maria de Jobim, le célèbre Estate de Bruno Martino cher à Chet Baker, Pra dizer adeus d'Edu Lobo, deux compositions de Dori Caymmi et Paulo Cesar Pinheiro mais aussi sa composition Novelo qu'elle avait déjà enregistrée sur "Hard Bossa" en 1999. A côté de ces succès brésiliens, elle a choisi d'interpréter Throw it away d'Abbey Lincoln qu'elle admire partriculièrement, le traditionnel The water is wide, Some other time de Bernstein, Smile de Chaplin (un thème cher à Toots comme à Kenny Werner) et, enfin, Second love song (paroles de Joyce et musique de Kenny).
Un répertoire varié mais tout entier dédié à la mélancolie et la quête d'amour. Qu'elle chante en portugais ou en anglais, la voix de Joyce Moreno est suave à souhait et l'accompagnement de Kenny Werner empreint d'une grande empathie. Ne vous attendez pas cependant à trouver ici les rythmes chaloupés de la bossa, mais plutôt ceux du choro: le répertoire tout entier est traversé d'une poésie empreinte de quiétude, d'un climat de saudade proche du fado. Certains y trouveront peut-être une certaine monotonie.
Claude Loxhay