Joshua Redman & Brooklyn Rider – Sun On Sand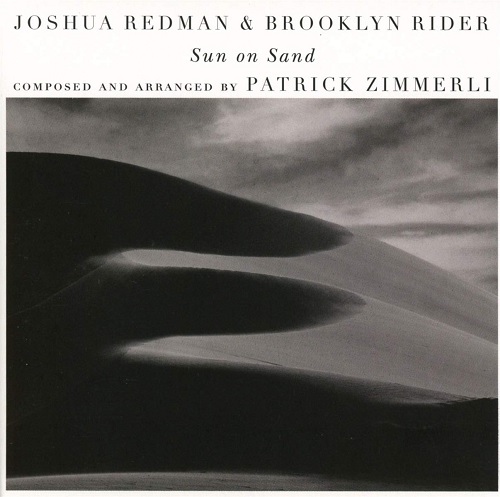 J
Nonesuch
De muziek op 'Sun On Sand' komt van een suite voor tenorsaxofoon, strijkkwartet, bas en drums gecomponeerd door Patrick Zimmerli. Joshua Redman zorgt er op overdonderende wijze voor dat nooit te ver afgeweken wordt van de centrale jazz-as.
Het is niet de eerste keer dat Redman en Zimmerli samenwerken. In 2013 was er reeds 'Walking Shadows'. De componist ging trouwens ook al in zee met Brad Mehldau, Brian Blade en Ethan Iverson. Het strijkkwartet Brooklyn Rider bouwde op zijn beurt een reputatie op door zijn diensten te verlenen aan onder meer Anne Sofie von Otter ('So Many Things'), Bela Fleck ('The Imposter/Night Flight Over Water') en Kayhan Kalhor ('Silent City').
'Sun On Sand' moet verschillende aspecten van licht oproepen. Vandaar titels als 'Flash', 'Between Dog And Wolf' en 'Starbursts And Haloes'. Zonder deze informatie valt echter evenzeer te genieten van wat hier gepresenteerd wordt. Van bij de eerste noten moet je onwillekeurig denken aan de energiestroom van Bl!ndman in combinatie met strijkers. Met de rollende drums erbij klinkt het geheel nog wat volumineuzer. Uiteindelijk is het één muzikant die voortdurend alle aandacht naar zich trekt: Joshua Redman. Veertig minuten lang is hij het die de dans leidt. Hij is het ook die telkens de snelheid opvoert, de details uitvergroot en alles steeds weer naar een ander niveau extrapoleert. Niet dat zijn medemuzikanten tot figuranten herleid worden, integendeel. Het is door hun aanvullingen dat de contrasten zo goed werken. Dat Scott Colley de bassist van dienst is en Satoshi Takeishi achter het drumstel zit, maakt veel duidelijk.
De invloed van Philip Glass is nooit echt ver weg zoals in 'Soft Focus' bijvoorbeeld. Niet verwonderlijk gezien het strijkkwartet in het verleden (2011) 'Brooklyn Rider Plays Philip Glass' uitbracht. Toch valt 'Sun On Sand' zeker niet te klasseren onder hedendaags klassiek of "third stream". Dit is wel degelijk een jazzplaat, zij het met minder gebruikelijke ingrediënten.
© Georges Tonla Briquet

Live
10.01.2020, 21:00, Flagey: Pierre, Redman, Legnini, Bareket

https://www.flagey.be/nl/activity/6399-pierre-redman-legnini-bareket