Joseph Nowell Trio - Sketches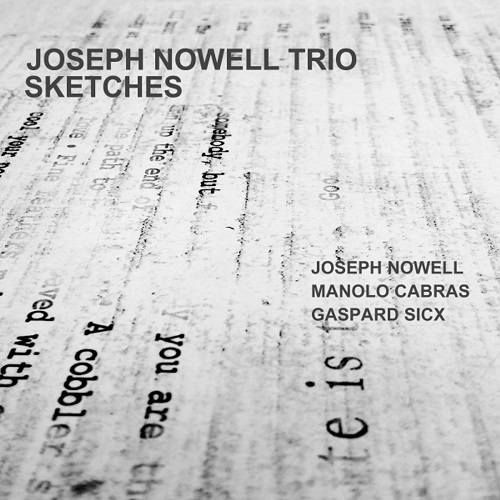 J
OFF Record
Pianist Joseph Nowell (Engeland °1994) verhuisde op zijn veertiende naar Siena (Italië). In 2019 behaalde hij zijn Master of Arts magna cum laude aan het Koninklijk Conservatorium in Antwerpen. Als student was hij in 2019 lid van het Antwerp Jazz Orchestra o.l.v. Bert Joris en Breathing o.l.v. Nicolas Thys. Met Manolo Cabras speelde hij al in 2018 tijdens een jam in Antwerpen.
Nu brengt hij zijn debuutalbum 'Sketches' uit, en zoals de titel aangeeft, is het een amalgaam van losse stukjes die volledig geïmproviseerd en in het moment zijn opgenomen. Manolo Cabras tekent voor één nummer: 'Blurp'.
Zijn inspiratie put hij zowel uit de klassieke muziek van de 20ste eeuw (ook met invloeden van onder meer Schönberg) als uit de freejazz (met invloeden van onder meer Paul Bley).
Zo ontstaat een verrassende luistersessie van verstilde tot expressieve momenten. Het wisselt van trio tot intimistische interactie in duo met Cabras. In 'Mechelen' ontwikkelt zich een uitgesponnen melodische verhaallijn, terwijl 'Collage' een intens eclectisch samenspel vormt van piano, contrabas en drums. Misschien wel het meest exemplarische meesterwerk, dat zich uit 'Sketches' heeft gevormd. Met 'F' en ''Blurp' is het genieten van voorbeeldige kamerjazz.
'Sketch of Tre Cipressi' vormt een intro tot het opwindende 'Tre Cipressi'. 'Sketch of Sketch' luidt een soort slotakkoord in van 'Sketch' en 'Sketch of F' of de afronding van het introspectieve karakter van het album.
Met 'Sketches' onthult pianist Joseph Nowell een beloftevolle pianistische rijkdom aan ideeën. Een krachtig debuut.

© Bernard Lefèvre




Musici:
Joseph Nowell (piano)
Manolo Cabras (contrabas)
Gaspard Sicx (drums)