Jorge Rossy Vibes Quintet feat. Mark Turner & Al Foster - Beyond Sunday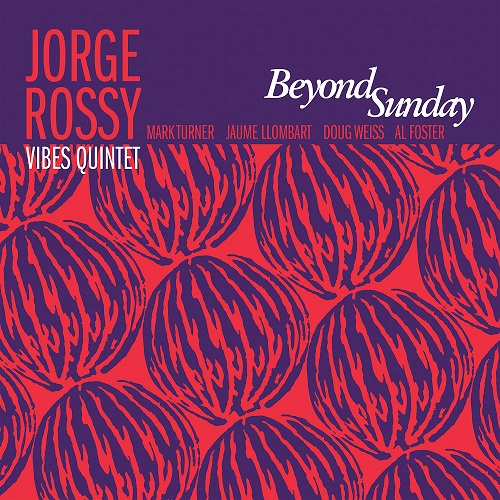 J
jazz&people
Der spanische Vibrafonist, Pianist und Drummer Jorge Rossy wurde als Drummer des Brad-Mehldau-Trios bekannt. Nun legt er mit dem Vibes 5tet ein eigenes Album vor, in dem er ausschließlich am Vibrafon zu hören ist. Ergänzend dazu hören wir den Saxofonisten Mark Turner, den gleichsam im "Monk-Modus" agierenden katalanischen Gitarristen Jaume Llombart, den Bassisten Doug Weiss und den legendären Schlagzeuger Al Foster. Alle vereint eine eigene Auffassung von Modern Jazz!
Jorge Rossy studierte am sehr bekannten Berklee College of Music in Boston, spielte mit Brad Mehldau und ging dann aus den USA wieder zurück ins heimische Barcelona. Im Jahr 2016 entdeckte er für sich das Vibrafon, das wie das Schlagzeug auch als Schlagwerk anzusehen ist. In den letzten Jahrzehnten standen Auftritte mit Charlie Haden und Lee Konitz, Joshua Redman, Joe Lovano und selbst  Wayne Shorter an, nicht zu vergessen ist zudem die Zusammenarbeit mit dem FOX Trio mit den französischen Musikern Pierre Perchaud und Nicolas Moreaux.
Jorge Rossy beschreibt seine Affinität zum Vibrafon wie folgt: "Immediately, I've had the feeling that the vibes in some ways was my ideal instrument. It was the summation of the other three. It had the elements of the drums, of course, because of playing with the sticks—technically I felt I could control it in terms of getting an expressive sound and control of dynamics and colors; then it had the keyboard like the piano; but it had also the role of the trumpet. It allows me to play the lines I have in my ears."
Eingespielt wurden Kompositionen wie "Beyond Sunday", "Sativa", "Cold" und "Trust", aber auch "Joe's Dream" und als Schlussnummer "Introspection".



Flüchtig sich im Raum verbreitende Sequenzen, die wir Jorge Rossy verdanken, treffen in "Beyond Sunday" auf weichen Saitenklang und ein Tschtsch-tschätschä des Drummers. Der im Hintergrund agierende Bass vermischt sich nachfolgend mit dem welligen Gitarrenklang. Im Diskant agiert anschließend Rossy, begleitet von den rhythmischen Phrasen des Gitarristen Jaume Llombart. Und dann ist da ja auch noch die Keckheit des Saxofonisten Mark Turner, der auf seinem Holzbläser klangliche Knoten knüpft und diese auch wieder löst. Im Song "Sativa" fokussiert sich die melodische Linie auf das Saxofon Turners, der einen feinen klanglichen Kondensstreifen schafft. In seinem Gefolge agiert der Gitarrist Llombart. Mit viel Beckeneinsatz bringt sich Al Foster obendrein ins Spiel. Doch über weite Strecken ist es Mark Turner, der die Färbung der Komposition definiert. Erst etwa in der Hälfte von "Sativa" ist es dann an Rossy, die Klangstäbe tanzen zu lassen. Dabei gleicht sein Spiel den steten Sandverwehungen auf Dünenkämmen. Da rieseln und wirbeln Sandkörner, ordnen sich neu, werden aufgewirbelt und fallen hernieder.
Sehr schön verwoben sind Bass und Gitarre in "Kierra", und im Hintergrund vernimmt man außerdem ein bisschen Latin Jazz dank des leichthändigen Schlagzeugspiels von Al Foster. Doug Weiss lässt sich ebenso nicht lumpen und steuert im Nachgang ein wenig tieftönige Beschwingtheit bei.
Sehr getragen ist "Dusk" gehalten, und man hat die Vorstellung, die Schwere der Nacht hält Einzug und bedeckt die Stadt, insbesondere wenn Mark Turner am Holzbläser zu hören ist. Quicklebendig agieren hingegen in "Joe's Dream" der Bandleader Jorge Rossy und der Saxofonist Mark Turner. Welche Traumlinien fangen sie wohl ein? Oder ist das vielleicht eine Hommage an Joe Henderson?
Was erwartet man, wenn man einen Titel wie "Cold" liest? Kristallines Eisbrechen, Schneefall, Schneesturm, peitschenden Wind? Doch von all dem ist in der gleichnamigen Komposition wirklich nichts zu verspüren. Eher hat man den Eindruck, die Verlangsamung des Lebens im Winter sei eingefangen worden, die nachhaltig längere Dunkelheit ebenso. Selbst Jorge Rossy lässt die Klangstäbe nicht klirren, sondern versteift sich auf Weichzeichnungen. Gleiches gilt für die Passagen des Holzbläsers. Die beiden scheinen ein heimeliges Kaminfeuer für uns entzündet zu haben, oder?
Text © ferdinand dupuis-panther – Der Text ist nicht public commons!
Informationen