Jorge Rossy - Stay There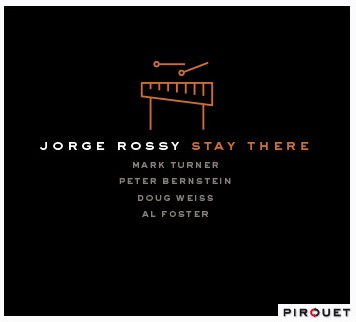 J
Pirouet
On connaît, avant tout, Jorge Rossy comme ayant été, de 1994 à 2005, le batteur du trio de Brad Mehladau (The Art of the Trio, avec Larry Grenadier à la contrebasse).
Mais il avait d'abord rencontré le pianiste en compagnie du saxophoniste espagnol Perico Sambeat (Barcelona Crossing) et aussi avec Mark Turner et Kurt Rosenwinkel (Yam Yam). Né en 1964, Jorge Rossy a croisé la crème du jazz américain, de Joe Lovano à Chick Corea et enregistré avec les saxophonistes Chris Cheek (Guilty) et Seamus Blake ou le pianiste Etan Iverson.
Et, à l'image de notre compatriote Jan De Haas, il n'est pas seulement batteur mais aussi vibraphoniste, ce qui nous vaut ce Stay There. Pour cet album Pirouet, le Catalan a réuni une équipe de choix: au ténor, Mark Turner qu'il a rencontré dès 1989; à la guitare, Peter Bernstein qu'il a croisé dès 1991 et qui a joué avec Joshua Redman, Joe Lovano, Diana Krall et, en trio avec l'organiste Larry Goldings et le batteur Bill Stewart (Ramshackle Serenade, album Pirouet); à la contrebasse, Doug Weiss que Jorge a croisé auprès du pianiste Kevin Hays et dans le groupe de Mark Turner; enfin, à la batterie, Al Foster qui a joué avec Miles mais aussi avec Sonny Rollins, Herbie Hancock et, en trio, avec Joe Henderson (souvenir d'un passionnant concert au Jazz Mecca de Maastricht).
Au répertoire, sept compositions du leader, une d'Al Foster (Pauletta), une du compositeur argentin Guillermo Klein (Artesano dédié à Jorge) et une de la soeur de Jorge, Mercedes Rossy (The Newcomer). Au total, un jazz très classique: au vibraphone, Jorge Rossy est plus proche de Milt Jackson que de Bobby Hutcherson ou Steve Nelson. A la batterie, pas d'effusion virevoltante, mais un jeu tout en nuances, souvent aux balais: "Everything I thought I knew how to approach a drum part he just destroyed. He does things I didn't think were possible. He's continually playing melodies and never plays a pattern for more than two bars, and yet he's never intrusive. He's magic" (J.Rossy). Quelques plages très swing (Blessed, Mmmyeah), un Artesano aux couleurs latinos et joué au marimba, avec un beau solo de contrebasse, pour le reste, des ballades (Mark's Mode, The Newcomer, Pauletta, Stay There, Portrait avec une belle intro de guitare, W Waltz avec intro de saxophone et Who knows about tomorrow avec beau solo de vibraphone).
Et, toujours, un bel équilibre entre vibraphone, saxophone et guitare.

Claude Loxhay