Jon Irabagon – Rising Sun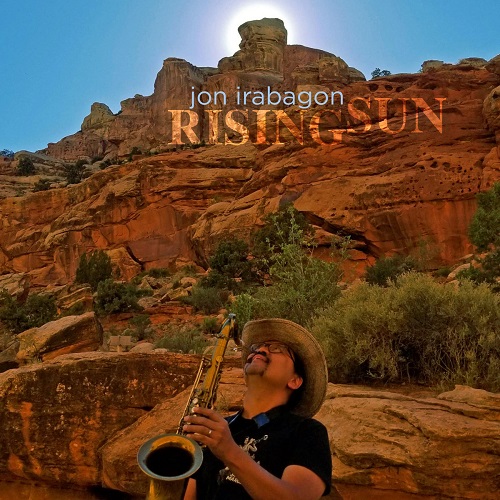 J
Irabbagast
De hoesfoto's laten enigszins vermoeden dat 'Rising Sun' een vervolg is op Jon Irabagon zijn vorige (solo)cd 'Bird With Streams' opgenomen in het Black Hills National Forest (South Dakota) tijdens de lockdown. Natuur en reizen langs nationale parken vormen weliswaar opnieuw de inspiratiebron maar voor de uitwerking kon de saxofonist rekenen op een aantal muzikanten waaronder Matt Mitchell, Dan Weiss en Adam O'Farrill.
Met zes eigen composities (aangevuld met Dizzy Gillespies 'Bebop') wil Irabagon de epische grandeur en de pracht van landschappen in Montana, Idaho, Utah, Colorado, Wyoming en Sout Dakota verklanken. De elf minutenlange openingstrack 'Sundance' plaatst de luisteraar meteen in een imposant geluidsdecor. De snoeiharde saxofooninsteken verwijzen naar de vertrouwde free en postbop perspectieven die Irabagon telkens met zijn instrument weet uit te tekenen. Halfweg wordt er lichtjes gas teruggenomen en is er een knipoog naar Lester Young om vervolgens verder richting Sonny Rollins door te suizen. Laten we niet vergeten dat Irabagon indertijd met 'Foxy' een originele ode bracht aan deze laatste zijn 'Way Out West'.
'Alliance' wordt op gang getrokken door een kinetisch stukje drumsolo en een barokke pianopassage. De ideale voedingsbodem om de saxofonist te introduceren die alle proporties wederom omverblaast en zo voor een haast destructieve golfstroom zorgt. Zijn solo-introductie van 'Hoodootoo' is eveneens vintage-Irabagon. Okazaki neemt hierna het roer over voor een radicale ommezwaai naar noisejazz verwant aan Elliott Sharp en Arto Lindsay. Gillespies 'Bebop' krijgt eveneens een supersonische behandeling.
'Mammoth' is het bluesmoment van de plaat, althans tijdens de eerste drie minuten. Vervolgens evoceren de twee blazers abstracte funkidiomen. 'Rising Sun' (de gestuurde chaos op het einde!) en 'Needles' (een stevige knipoog naar fusion) vervolledigen het hele programma in even verrassende en intense modus.
Medemuzikanten zijn Matt Mitchell (piano, Fender Rhodes), bassist Chris Lightcap en drummer Dan Weiss. Gastbijdragen zijn er van gitarist Miles Okazaki die terug te vinden is op de recente cd van Aka Moon ('Quality Of Joy'). Verder nog de jonge trompettist Adam O'Farrill die eveneens een Belgische connectie heeft (Thomas Champagne).
Jon Irabagon is duidelijk een van de meest interessante tenorsaxofonisten. Niet toevallig was hij medeoprichter van Mostly Other People Do The Killing en maakt hij al jaren deel uit van het Dave Douglas Quintet. En dan is er nog zijn lidmaatschap bij Teun Verbruggen zijn Bureau Of Atomic Tourism. Graag zo snel mogelijk op een podium in onze contreien.

© Georges Tonla Briquet




Musici:
Jon Irabagon: tenorsaxofoon
Matt Mitchell: piano, Fender Rhodes
Chris Lightcap: bas
Dan Weiss: drums
+
Miles Okazaki: gitaar
Adam O'Farrill: trompet

www.jonirabagon.com
BANDCAMP