Jon Irabagon Quartet w/special guest Tim Hagans – Dr. Quixotic's Traveling Exotics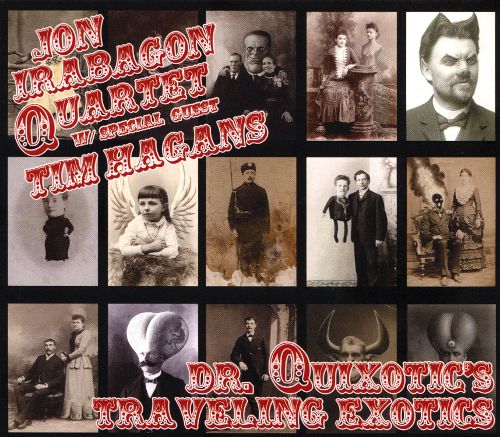 J
Irabbagast Records
Tussen al zijn nevenactiviteiten door waaronder sidekick van Dave Douglas, lid van het Mary Halvorson Octet en Teun Verbruggen zijn B.O.A.T. plus een bepalende rol bij Mostly Other People Do The Killing, vond Jon Irabagon de tijd om een nieuw meesterwerk in te blikken.
"Ladies, gentlemen, children of all ages! This is not a magic show, no. The danger is not an illusion. The hazard is real and the risk absolute, the paths treacherous and the consequences dire." Met dergelijke aankondiging op de hoes slaat de fantasie natuurlijk op hol. Geen nood, saxofonist hors pair Jon Irabagon lost alle hooggespannen verwachtingen in. Aan de zijde van Irabagon vinden we dezelfde heren terug als op zijn 'Behind The Sky' (2015): Luis Perdomo (piano), Yasushi Nakamura (bas) en Rudy Royston (drums). In de rol van gastmuzikant was er toen Tom Harrell. Deze keer is dat trompettist Tim Hagans.
'Dr. Quixotic's Traveling Exotics' begint met een solo zoals alleen Irabagon die kan brengen. Hij schuift ongeremd toonladders op en af en legt ondertussen losse verbanden. Dit alles als startsein voor de aanstormende drums en bas die met eenzelfde overtuiging aansluiten terwijl de saxofonist met een onuitputbare "circular breathing" techniek verder blijft blazen. De pret kan niet op als ook de pianist zich bij het gezelschap voegt. "Welcome to a jazzparty according to Irabagon".
Tot er plots een andere deur geopend wordt die toegang verleent tot een complex labyrint. Hier neemt de pianist over terwijl de ritmesectie heel experimenteel op hol slaat. Dit is nog maar de eerste van de zes mini-suites die hier gepresenteerd worden.
Volgt nadien 'Emotional Physics/The Things'. Aanvankelijk naadloos aansluitend bij de openingstrack maar via een breekpunt belanden we in pure bopperiode die dan weer even bruusk onderbroken wordt om een smachtende sax te laten weerklinken. Dr. Quixotic en zijn bende rijgen zo met een adembenemende dynamiek de taferelen aan elkaar.
De intrigerende hoes met zwart-wit "cabinet cards" is een aanrader voor wie houdt van de bizarre werelden zoals geportretteerd in de klassieker 'Freaks' (1932) van Tod Browning of in de televisieserie 'Carnivàle'. Verantwoordelijk hiervoor is Colin Batty die meewerkte aan Tim Burton zijn 'Mars Attacks'.
"Scream in nervous delight as you become one with…. Dr. Quixotic's Traveling Exotics". Geen enkel festival de naam waardig zou zich deze roadshow mogen ontzeggen.


MUSICI:
Jon Irabagon (tenorsaxofoon)
Luis Perdomo (piano)
Yasushi Nakamura (bas)
Rudy Royston (drums)
Tim Hagans (trompet)

INFO:
www.peculiarium.com
www.jonirabagon.com


© Georges Tonla Briquet