Jon Boutellier – On Both Sides Of The Atlantic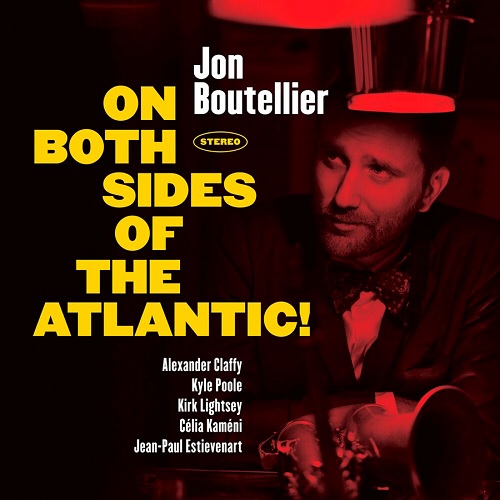 J
Gaya
De Franse saxofonist Jon Boutellier animeerde een hele periode de jamsessies in de Parijse club Duc Des Lombards. Daar ontmoette hij muzikanten van beide zijden van de oceaan. Hij nodigde een select groepje uit om met hem de studio in te duiken. Onder hen de Belgische trompettist Jean-Paul Estiévenart.
De hoes is pure Blue Note vintage zoals in de sixties. Fotograaf Philippe Levy-Stab heeft het werk van Francis Wolf grondig bekeken. Op het programma staan vooral standards aangevuld met een enkel eigen nummer van Boutellier. Allemaal materiaal dat de saxofonist op zijn duimpje kent door de wekelijkse jamsessies die hij organiseerde. Dat hij mee de Keystone Big Band oprichtte, is een andere verklaring voor deze cd.
Opener 'Black' (Cedar Walton) is meteen een duik in het bop-verleden, getekend door een hedendaagse urgente ondertoon. Showtime voor elke muzikant aan de hand van korte solo's met in het bijzonder Estiévenart. Via het minder bekende 'Blue Rose' van Ellington gaat het richting lichte swing waarbij bassist Alexander Claffy (Kurt Rosenwinkel, Jimmy Cobb) en drummer Kyle Poole (die gedurende drie jaar zijn vaste wekelijkse stek had in de New Yorkse jazzclub Smalls) gezwind het tempo aangeven. Nog meer van dat maar uiterst sober is 'Nice & Nasty' (Thad Jones). Een "back to basics" versie met zwoele tenorsaxofoon, een "walking bassline" en de drummer in de weer met borsteltjes. 'Quiet Sides' (de enige compositie van Boutellier) is uitgewerkt volgens eenzelfde formule. Een trio dat zich beperkt tot het hoogst noodzakelijke. We horen tevens wat soulblues dankzij '1974 Blues' (een klassieker van Eddie Harris) en McCoy Tyner zijn 'Blues On The Corner'.
'Maybe September' wordt omgetoverd in een walsje met deze maal naast Estiévenart tevens de drieëntachtigjarige pianist Kirk Lightsey (Dexter Gordon, Pharaoh Sanders, Sonny Stitt) als smaakmaker. Naadloos aansluitend hierbij volgt een smachtende versie van 'Save That Time' met Célia Kaméni (Keystone Big Band) als vocaliste. Een passage voor "in the wee small hours of the morning". 'We'll Be Together Again' (Fischer & Laine') en 'Yesterdays' (Kern & Harbach) zijn gedrenkt in een even sensuele sfeer maar zonder zang.
'On Both Sides Of The Atlantic' is synoniem voor een duik in het verleden door ervaren muzikanten die spelen met de gretigheid van jongeren en zich niets aantrekken van hippe stromingen. Tevens een mooie illustratie tot hoe ver jamsessies kunnen leiden.
© Georges Tonla Briquet




Bezetting:
Jon Boutellier: tenorsaxofoon
Alexander Claffy: contrabas
Jean-Paul Estiévenart: trompet
Kyle Poole: drums
Kirk Lightsey: piano
Célia Kaméni: vocals

https://jonboutellier.com/