John Coltrane - A Love Supreme Live at Seattle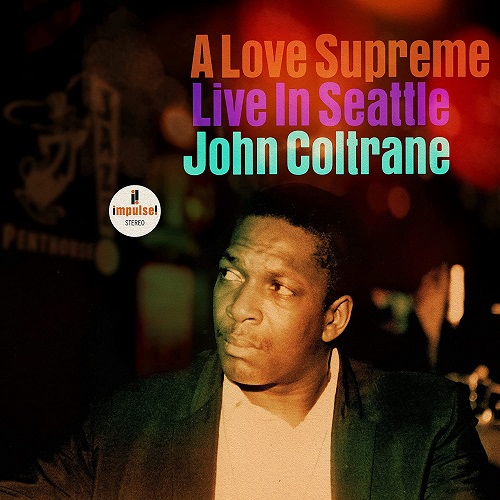 J
Impulse/Universal
L'enregistrement en studio de « A Love Supreme » en décembre 1964 est sans aucun doute à marquer en lettres capitales dans l'Histoire du jazz. John Coltrane enregistre ce qui deviendra vite un des disques majeurs du jazz, une « suite » en quatre mouvements avec son fidèle quartet : McCoy Tyner au piano, Jimmy Garrisson à la contrebasse et Elvin Jones à la batterie.
Coltrane aurait écrit « A Love Supreme » après une « révélation » et est décrit comme une prière et à coup sûr une œuvre spirituelle. A ce jour, seul la version en public du Festival d'Antibes en 1965 était connue et publiée. Ce qui rend ce « Live in Seattle » exceptionnel, encore plus si on y ajoute que le quartet se transforme ici en septet avec la participation de Pharaoh Sanders au ténor et percussions, Carlos Ward à l'alto et Donald Rafael Garrett à la contrebasse.
A Seattle, « The Penthouse » est le club qui accueille les vedettes de passage – Chick Corea, Roland Kirk,… - mais la venue du quartet de Coltrane est expliqué comme quelque chose de spécial par le propriétaire du club : « Ce sera comme quelque chose que vous n'avez jamais entendu… le jazz moderne doit aller dans de nouvelles directions. Ceci est la voie de Coltrane : prendre quelques notes et être libre. Peut-être n'est-ce pas la voie que le jazz prendra, peut-être que si. De toute façon, c'est une expérience ».
Dans le cadre d'un club, on pouvait s'attendre à ce que les quatre mouvements s'étirent dans de longues improvisations : de la version  studio d'un peu plus d'une demi-heure, on passe ici à cinquante-six minutes pour « Ackowledgement », « Resolution », « Pursuance » et « Psalm » auxquelles on ajoute  quatre interludes de respectivement 2:36, 6:26, 6:38 et 7:21, le premier étant une partie solo par les deux contrebassistes avant que, après cinq minutes, Coltrane cite le thème de l'album studio.
Comme on peut l'imaginer en club, les versions des thèmes s'allongent et laissent place à une improvisation totale où Pharaoh Sanders et Carlos Ward se plongent avec force, occultant le versant religieux de la version studio pour faire place à des instants de furie musicale. Et la longue prière de l'enregistrement original se limite ici à quelques mots du saxophoniste.
Certes, le son n'est pas toujours idéal malgré le gros travail réalisé par l'ingénieur Kevin Reeves : l'enregistrement réalisé avec seulement deux micros, l'un pour le piano, l'autre pour les souffleurs, fait que la batterie d'Elvin Jones domine étant prise entre deux feux. Mais a-t-on jamais reproché au mythique « Live at the Village Vanguard » d'être de médiocre qualité ? Retrouvé dans les archives de Joe Brazil en 2013, on aura donc attendu les 60 ans du label Impulse pour ainsi compléter l'Histoire de cette composition majeure de Coltrane.
L'événement ne laissera pas indifférent les fans du saxophoniste.
© Jean-Pierre Goffin
Une collaboration JazzMania / Jazz'halo