Joey DeFrancesco - More Music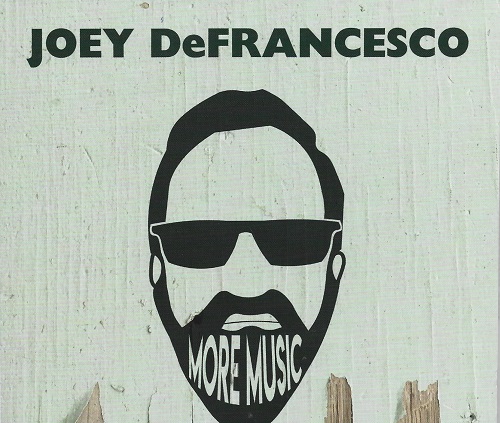 J
Mack Avenue/ Newartsint.
L'organiste Joey DeFrancesco fait partie de ces jeunes prodiges du jazz qui se sont révélés très tôt : premier contrat chez Columbia Records à 16 ans. Un an plus tard, Miles Davis l'engage pour une tournée européenne, et à peine vingt ans, il joue avec John McLaughlin – on le verra à Bruxelles en trio avec Dennis Chambers à la batterie ; à cette époque et influencé par Miles, il se met aussi à la trompette.
Avec plus de trente albums à son actif, il est sans doute l'organiste le plus prolifique de sa génération, celle qui a suivi Jimmy Smith. Non content de jouer de l'orgue Hammond, de la trompette et de chanter, Joey DeFrancesco s'est remis au sax-ténor après son album de 2019 avec Pharaoh Sanders « In the Key of the Universe ». Remis au ténor, car vingt-cinq ans plus tôt DeFrancesco avait déjà sorti de son étui le sax-ténor de son grand-père, sans s'attarder vraiment sur l'instrument. Il faut encore ajouter à son arc, la corde vocale puisque Joey chante sur un titre de ce nouveau disque, la romance de Mario Romano « And If You Please ».
Vu les multiples talents du poly-instrumentiste et pour éviter l'overdub, il fallait trouver un musicien qui lui aussi porte plusieurs casquettes : Lucas Brown s'est révélé « the right man at the right place », lui qui pratique avec autant de facilité la guitare, l'orgue et les divers claviers. Michael Ode à la batterie complète ce trio qui propose, outre le thème de Mario Romano, dix nouvelles compositions du leader. « Davantage de musique, c'est ce dont nous avons besoin pour créer du positif et du bien-être dans ce monde » dit Joey DeFrancesco dans le dossier de presse, et c'est bien ce que transmet ce disque qui baigne dans une tradition aux accents très groove, d'une chaleur de tous les instants que transmet l'orgue Hammond et aussi la guitare – acoustique sur « In Times of Reflection ».
Un disque hautement recommandable.
© Jean-Pierre Goffin
Une collaboration JazzMania / Jazz'halo