Joe Lovano Trio - Tapestry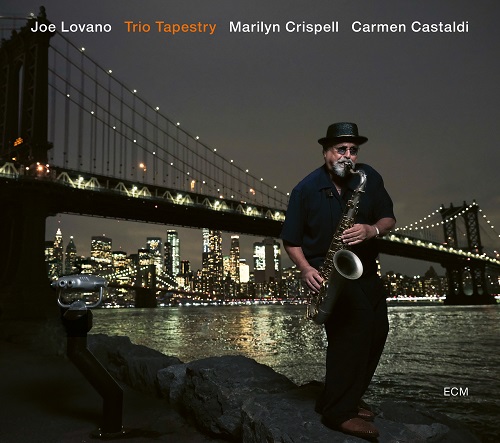 J
ECM Records 2019
Dit is de eerste ECM release van Joe Lovano met een eigen album. Verrassend misschien, en toch weer niet, want Lovano was al eerder vertrouwd met ECM producer Manfred Eicher toen hij er samen met de Paul Motian Band Psalm opnam in 1981. Er volgden nog heel wat opnames op het ECM label met Joe Lovano als sideman bij Paul Motian, Steve Kuhn, Marc Johnson en John Abercrombie.
Verrassend dan weer wel door de orkestrale en tegelijk intimistische sound en soul die Lovano legt in Tapestry als een weefsel vol schakeringen door een evenwaardige inbreng van zijn trio-partners, de eclectische pianiste Marilyn Crispell en ritmemeester Carmen Castaldi. Zoals Lovano het zelf stelt: "I brought in the material, but there's an equal weight of contribution, creating music within the music, and harmonizing it in a really special way."  
Met Marilyn Crispell, die zowel in hedendaagse muziek (John Cage) als jazz (Anthony Braxton, Cecil Taylor) excelleert vindt dit trio een gedroomde invulling van vrije exploratie in het moment. Lovano speelde voor het eerst samen met Crispell, Mark Helias en Paul Motian in de Village Vanguard in 2006.
Castaldi is een bekende van Lovano uit de studiejaren op Berklee College of Music en nam met Lovano Viva Caruso op in 2001. Hij heeft brede ervaring in orkestrale bezetting (bij shows in Las Vegas) en evengoed jazzimprovisatie (The Oblique Orchestra) en dat sluit perfect aan bij Lovano's opvatting van Tapestry als 'jazz free' (maar geen free jazz).
Lovano grijpt opnieuw naar het bespelen van de tarogato (Hongaars instrument dat lijkt op een klarinet maar eerder klinkt als een sopraansax) op de track Mystic. Eerder hoorden we hem met tarogato in The Spiritual van Steve Kuhns album Mostly Coltrane.
Lovano balanceert zo van tenorsax over tarogato en etaleert verder zijn fascinatie voor gongs, waarmee hij zelf subtiele accenten aanbrengt. Hij bespeelt de gongs als de linkerhand van de piano en de tenorsax als de rechterhand van de piano.
Tapestry is de meest intieme, persoonlijke muziek die Joe Lovano ooit bedacht, sereen en diep bewogen, opgaand in een interactieve trio-flow van ideeën tot één inspirerend harmonisch verweven tapijt. En wie beter dan producer Manfred Eicher voelt die spirit perfect aan. Wat een verrukkelijk trio. Ware jazzliefhebbers willen we waarschuwen, Tapestry werkt hoogst verslavend, hopelijk komt er een vervolg.

© Bernard Lefèvre


Musici:
Joe Lovano (tenorsaxofoon, tarogato, gongs)
Marilyn Crispell (piano)
Carmen Castaldi (drums, percussie)