Joe Lovano Trio Tapestry - Garden Of Expression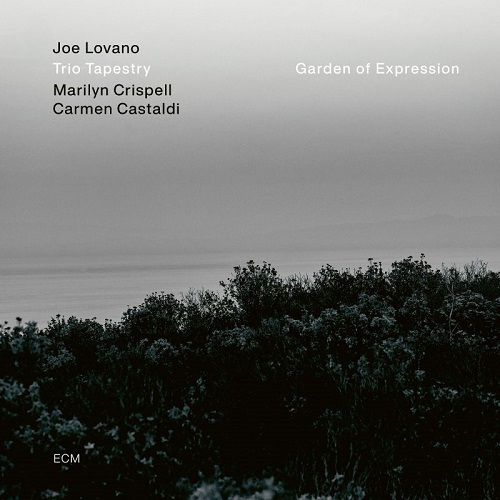 J
ECM
Een cd opgedragen aan alle slachtoffers van Covid-19. Gelukkig leidt dit niet tot overmatige dramatiek maar is het een serene luisterervaring dankzij de finesse en de emotionele uitdrukkingskracht van de drie grootmeesters.
Een rustig sacrale saxofoontoon die hunkert naar een hoger bewustzijn, fladderende pianonoten die subtiel lichtstralen doorkruisen en drums die vederzacht gestreeld worden met watten drumsticks, alles wat je kan verwachten van een compositie met de titel 'Chapel Song'. In de hoestekst verklaart Lovano nader waar het om draait op deze 'Garden Of Expression': "The sacred chant that we dream on is like a chapel song in our hearts".
Een theorie die het trio gedurende vijftig minuten uitwerkt, als drie tenoren die al decennia lang hun nooit aflatende zoektocht verderzetten naar een manier hoe ze "minder is meer" kunnen vertalen in hun muziek. Beheersing tot het uiterste met andere woorden. Rust, contemplatie en bewustwording waren duidelijk de drijfveren achter deze cd. In een aantal passages wordt alles net expressiever uitgedrukt maar nergens wordt alles extreem opgeschroefd of aangescherpt. De fluwelen textuur blijft behouden doordat de drie al hun expressies naadloos laten versmelten.
Zen maar tevens toch ook wel beklijvend en soms zelfs beklemmend, zeker wanneer Lovano enkele effecten inlast met gongs. Met een Belgische link aangezien hij voor zijn tenorsaxofoon een mondstuk gebruikt van François Louis, de ontwerper van de aulochrome.
© Georges Tonla Briquet






Musici:
Joe Lovano: tenorsaxofoon, sopraansaxofoon, tarogato, gongs
Marilyn Crispell: piano
Carmen Castaldi: drums

www.ecmrecords.com