Joe Haider Sextet feat. Bert Joris - As Time Goes By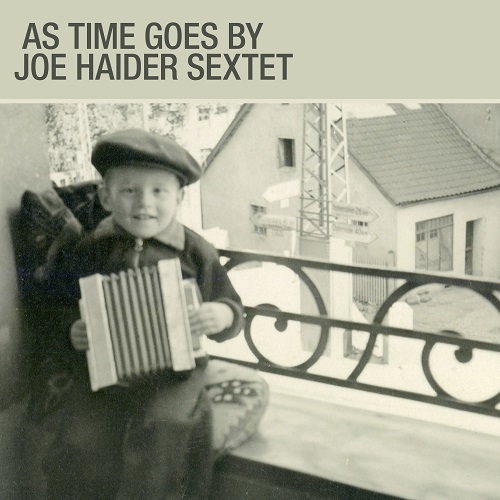 J
Double Moon Records
Joe Haider (84) is alive and kicking en bewijst dat met zijn recente project 'As Time Goes By' dat nog voor de coronacrisis na een tournee in januari/februari 2020 werd opgenomen.
Hij vormde zijn sextet met vertrouwde bandleden over drie generaties: Heinz van Hermann en hijzelf als tachtigjarigen, dan Johannes Herrlich en Bert Joris, respectievelijk 57 en 63 jaar, en de jongere ritmetandem Raffaele Bossard (38) en Dominic Egli (43). Deze laatste twee waren ook lid van Joe Haider Jazz Orchestra (Double Moon albums 'Back To The Roots en 'Keep it Dark'). Uiteraard is er de link met de Swiss Jazz School in Bern waar Joe Haider dirigent was van 1984 tot 1995 en Bert Joris docent werd in 1987 en de bigband ging leiden. Overigens was Bert Joris met Joe Haider betrokken in de Mel Lewis Orchestra eind jaren 80.
Het album 'As Time Goes By' baadt in een zweem van nostalgie waarvan de foto op de cover getuigt: een driejarig jongetje met een kleine trekzak in het raamkozijn in de zomer van 1939 of de illustratie van de lange muzikale carrière van de grote naoorlogse Duitse jazz pianist. Nu kondigt Joe Haider, "still fresh and lively", zijn laatste fase in de muziek aan met zijn nieuwe sextet.
Een onmiskenbare Bert Joris tekent voor de opener 'Magic Box' en draagt nog bij met 'Benoit', wat indruk maakt op Haider als favoriete track. Prachtige composities bekend van Bert Joris' albums 'BJO – The Music of Bert Joris' en 'Magone', door hem rijkelijk gearrangeerd voor sextet.
'Magic Box' swingt lekker weg met soli op trompet, trombone en sax. 'Benoit' is aanstekelijk groovy en kent een sprankelende bewerking en weergaloos mooie solo van Bert Joris. Daarbovenop soleert Heinz van Hermann met verve op fluit en laat de ritmetandem zich niet onbetuigd, een pittige drive van bassist Raffaele Bossard op contrabas en Dominic Egli op drums. Even indringend en in de beste jazztraditie neemt Joe Haider het voortouw in twee walsen van hem: 'Only For You' en 'District West'.  Maar ook de blues en soul krijgen hun plaats met 'A Blow For Joe' van Heinz von Hermann. Johannes Herrlich zorgt voor een Afro-Amerikaanse insteek met 'Hot Summer in Vienna'. En twee ballads maken het album helemaal rond: 'As 'Time Goes By' van Hermann Hupfeld – de wereldberoemde klassieker – en 'But So Far' van Andy Scherrer. Deze laatste was een Zwitserse saxofonist, die vorig jaar overleed, en met Haider opnam en ook betrokken was bij de Swiss Jazz School.
In dit album 'As Time Goes By' speelt Bert Joris een verbluffende rol, intens en puur, in bloedvorm! En Joe Haider weet zich dankbaar met Bert en al deze topmusici die elk mee interactief in de band en als solist indruk maken. Een voortreffelijk modern jazz album dat levenslust uitstraalt met een tikkeltje weemoed, maar voor alles een verademing in de hectische tijden van nu.
© Bernard Lefèvre



Musici:
Joe Haider (piano)
Bert Joris (trompet, bugel)
Heinz van Hermann (tenorsax, fluit)
Johannes Herrlich (trombone)
Raffaele Bossard (bas)
Dominic Egli (drums)