Joachim Mencel – Brooklyn Eye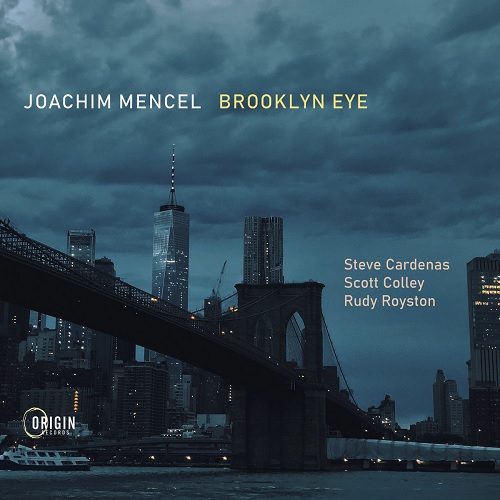 J
Origin
De Poolse pianist en componist Joachim Mencel realiseerde met 'Brooklyn Eye' eindelijk zijn levensdroom: een opname in het hart van New York met notabelen uit de jazzscene van daar, meer bepaald Scott Colley, Rudy Royston en Steve Cardenas.
Niet dat Mencel een beginneling is. Hij componeert reeds jaren voor film, orkest en ballet en stond bovendien op het podium of in de studio met Richard Galliano, Lee Konitz, Dave Liebman, Terry Clark en Charlie Mariano. Als goede leerling assimileerde hij invloeden en praktijklessen. De kristallisatie van dit alles belandde uiteindelijk op 'Brooklyn Eye' waarvoor Mencel de tien nummers schreef. De opname gebeurde de dag nadat in Parijs de Notre-Dame in brand stond. Titels als 'Come Holy Spirit' en 'Psalm 88' wogen plots zwaarder door in deze context.
Toch werd het geen elegie aan een beschadigd sacraal erfgoed. Dit is hedendaagse jazz recht uit het kloppende hart van de jazzwereld (althans toen nog). De hyper kinetische openingstrack zet de toon. De heren stonden duidelijk op scherp. Zelfs al vertraagt het tempo lichtjes, de spanning blijft. Zoals vermeld, duiken overal schuchtere invloeden op uit Mercel zijn verleden. Daartussen zowel filmische sfeerscheppingen en klassieke accenten als meer oosterse arabesken en zelfs bluesy passages. Opvallend zijn de stukken waarin Mercel te horen is op hurdy-gurdy, een instrument dat niet zo courant opduikt in jazz.
Met de alweer schitterende gitarist Steve Cardenas (Paul Motian & The Electric Bebop Band, Charlie Haden), drummer Rudy Royston (Jon Irabagon, Bill Frisell) en Scott Colley (Herbie Hancock, Craig Taborn) had hij natuurlijk een droomtrio om zich heen maar Joachim Mencel is merkelijk zelf een meer dan begenadigd pianist en vooral componist.
© Georges Tonla Briquet



Musici:
Joachim Mencel: piano, hurdy gurdy
Scott Colley: bas
Rudy Royston: drums
Steve Cardenas: gitaar

www.originarts.com
www.joachimmencel.com/