Jim Black Trio - The Constant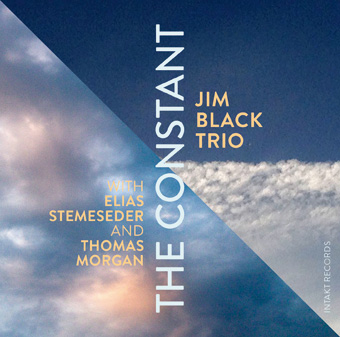 J
Intakt Records
A l'approche de la cinquantaine, Jim Black possède un sérieux CV à son actif: il a fait partie de Bloodcount de Tim Berne, d'Human Feel avec Chris Speed et Kurt Rosenwinkel, du Tiny Bell Trio avec Dave Douglas, a joué avec Ellery Eskelin mais aussi avec notre compatriote Kris Defoort, en quartet avec Mark Turner (Sound Plaza en 2002, New Sound Plaza en 2012). En tant que leader, il a formé le quartet AlasNoAxis, avec Chris Speed au saxophone.
Le voici dans une formule plus étonnante lorsqu'on regarde son parcours: un très classique piano-trio.
En 2008, alors qu'il était à Vienne pour un concert, il raconte: "I fell in love with a Bösendorfer upright they had in the dressing room". Lors du même voyage en Autriche, il croise le jeune pianiste autrichien Elias Stemeseder: "I gave him some of my music to learn, and he played like he wrote it after about 10 minutes".
Jim Black aura alors le projet de créer un piano-trio, à l'image de celui de Paul Bley, dans les années '60 (il cite l'album Footloose) en compagnie d'Elias Stemeseder et du contrebassiste Thomas Morgan.
Né à Salzbourg en 1990, le pianiste autrichien s'est installé à Berlin en 2010 puis à New York en 2015. Il a joué avec John Zorn mais apparaît aussi sur l'album Percussive Mechanics de la saxophoniste et flûtiste Anna Weber. Pour sa part, Thomas Morgan a croisé plusieurs pianistes, comme Craig Taborn, Kenny Werner ou Sylvie Courvoisier mais a aussi côtoyé Bill Frisell, Mark Feldmann, Steve Coleman et Paul Motian et a enregistré l'album Trinity de notre compatriote Robin Verheyen, avec Ralph Alessi à la trompette.
Le trio de Jim Black a d'abord enregistré Somatic en 2012 avant de proposer ce The Constant.
Au répertoire, neuf compositions originales du batteur et ce Bill de Jerome Kern que Thomas Morgan avait déjà joué avec Paul Motian.
Tout au long de l'album, Black adopte une esthétique basée sur une tension entre forme et liberté, entre fluidité mélodique et ruptures rythmiques.
D'un thème à l'autre, on navigue entre de constantes fluctuations rythmiques. Si les plages High et Medium, avec leur intro de contrebasse et un jeu de balais, sont baignés d'un climat paisible, sur les compositions Song H et O, le rythme est beaucoup plus saccadé, avec une omniprésence de la batterie derrière les déferlements du piano. Fall et Chinchilla démarrent sur un tempo assez calme mais le rythme s'accélère au fur et à mesure pour devenir frénétique. Sur Low, le jeu de Jim Black devient "bruitiste", au travers d'un jeu volontairement décalé, tandis que Bill, composition de Kern qui clôt l'album, avec son beau solo de contrebasse (comme sur Song M et E) est joué tout en retenue.
Avec The Constant, Jim Black entraîne le piano-trio vers de nouveaux horizons, en constante exploration.

Claude Loxhay