Jeremy Levy Jazz Orchestra – The Planets: Reimagined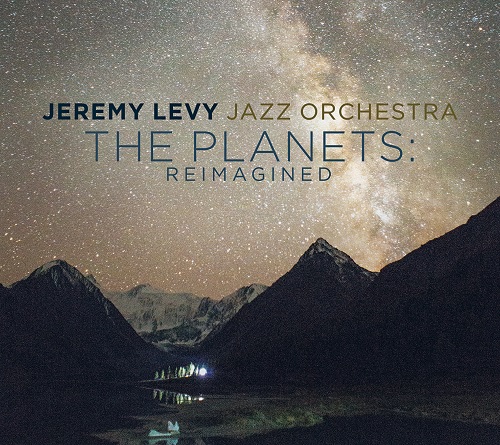 J
OA2
'The Planets, OP. 32' van de Engelse componist Gustav Holst blijft bezielen. Progrockers als Yes en King Crimson bijvoorbeeld citeerden graag uit dit werk. De Amerikaanse componist Jeremy Levy maakte er nu een bigband versie van met het kruim van studiomuzikanten uit Los Angeles.
Zeven composities voor evenveel planeten die bekend waren toen Holst 'The Planets, OP. 32' componeerde tussen 1914 en 1916 (van Pluto was nog geen sprake). Elke planeet kreeg daarbij een ondertitel: Mars (The Bringer Of War), Venus (The Bringer Of Peace), Mercury (The Winged Messenger), Jupiter (The Bringer Of Jollity), Saturn (The Bringer Of Old Age), Uranus (The Magician) en Neptune (The Mystic). Levy houdt zich strikt aan deze indeling.
Hij schreef zelf al heel wat muziek voor film ('Ant-Man And The Wasp', 'Frozen II'), tv en videogames ('Star Wars: Battlefront'), leidt sinds 2007 samen met saxofonist Alex Budman het Budman-Levy Orchestra, werkte met het Metropole Orkest en speelde zelfs trombone bij het Brian Setzer Orchestra (Holst was eveneens trombonist). Een man van vele muziekjes dus. Toen hij in 2017 een live uitvoering van 'The Planets' meemaakte, was hij meteen verkocht. Hij bedacht nieuwe arrangementen voor zijn eigen droomorkest met als uiteindelijk eindresultaat deze opname.
Levy kent natuurlijk de knepen van het vak om de dynamiek van een grote bezetting naar hartenlust te gebruiken. Ook opbouw en aanhouden van spanningsbogen zijn meesterlijk uitgewerkt. Het knettert overal en de luisteraar wordt daarbij van het ene actiemoment naar het volgende gekatapulteerd in een onstuimige klankweelde. Twee opvallende kenmerken daarbij: haast geen solo's en het regelmatig opduiken van latin accenten (een overblijfsel uit Levy zijn Miami-periode). Met andere woorden, het "reimagined" uit de titel.
Andere verrassende wendingen zijn de croonerswing annex romantiek in 'Venus' en de heftige gitaarsolo midden ''Jupiter' (waardoor het rock-'n-roll gehalte opgekrikt wordt). Door de sporadische raakvlakken met 'Also Sprach Zarathustra' (Richard Strauss) wijkt alles minder ver af van de initiële sfeer maar de aanpak in 'Uranus (The Magician)' is dan weer radicaler. Hier lijkt het wel of we op weg zijn naar 'The Wizard Of Oz' langs de "yellow brick road".
Een vernieuwde en boeiende kennismaking met dit standaardwerk. Beluister nadien de soundtrack van 'Star Wars' en je hoort duidelijk dat John Williams zich niet alleen liet inspireren door Wagner maar tevens door Holst.
© Georges Tonla Briquet
ARRANGER & CONDUCTOR
Jeremy Levy
SAXOPHONES
Alex Budman, Kevin Garren, Jeff Driskill, Glen Berger, Tom Luer, Ken Fisher
TRUMPETS
Rob Schaer, Javier Gonzalez, Michael Stever, Mike Rocha
TROMBONES
Alex Iles, Francisco Torres, Andy Martin, Juliane Gralle, Steve Hughes
RHYTHM
Andrew Synowiec (Guitar), Andy Langham (Piano), David Hughes (Bass),
Jamey Tate (Drums), Brian Kilgore (Percussion)

www.jlevymusic.com
www.originarts.com