Jeanne Lee & Ran Blake - The Newest Sound You Never Heard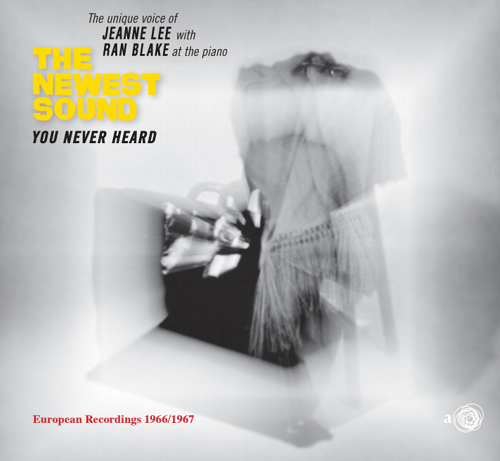 J
A-Side Records
European Recordings 1966-67
In 1962 bracht zangeres Jeanne Lee met pianist Ran Blake het eerste duo-album The Newest Sound Around (RCA Victor) uit, wat in de VS onder de radar bleef maar tijdens een tournee in Europa warm werd onthaald. Jeanne Lee voelde zich beter thuis in Europa, verhuisde en trouwde met Gunther Hampel. Ze vond in haar laatste jaren in Mal Waldron nog een vaste pianopartner. In 2000 werd ze geveld door kanker op 61-jarige leeftijd.
Buiten de live-opnames in Stockholm in 1966 (Free Standards) kwam er slechts in 1989 opnieuw een duo-album van Lee en Blake (You Stepped Out of a Cloud – Owl Records).
Ran Blake (83) bracht onlangs nog solo een herdenkingsconcert voor Lee (die op 29 januari 80 had kunnen worden).
Verrassend genoeg duiken na liefst 50 jaar in de BRT-archieven te zijn opgeborgen live-registraties op, vastgelegd in de BRT-studio's en bij optredens in Brussel, door Jazz Middelheim stichter en producer Elias Gistelinck. Student-drummer Eli Kessler 'ontdekte' ze tijdens studies in Brussel en bracht Ran Blake op de hoogte die A-Side baas Aaron Hartley inschakelde om de licenties te regelen. In samenwerking met de Ran Blake Foundation, New England Conservatory (waar Ran Blake 50 jaar lang docent was) en de VRT realiseerde A-Side Records zo het dubbelalbum The Newest Sound You Never Heard (European Recordings 1966-67).
Het unieke muzikale partnership van Lee en Blake, tegelijk avontuurlijk en intimistisch, een open en vrije dialoog, intens diepgaand en spannend is vandaag nog even sprankelend fris.
Hun liefde voor Monk (Misterioso, Blue Monk) en Billie Holiday (Billie's Blues – solo door Jeanne Lee) en het American Songbook (Richard Rodgers, Cole Porter, George Gershwin, Harold Arlen) wordt even creatief en explorerend verkend in klassiekers van jazzgroten: Just Squeeze Me, Caravan (Duke Ellington), Take The A-Train, Something to Live For (Billy Strayhorn), Parker's Mood (Charlie Parker), Night in Tunisia (Dizzy Gillispie), Lonely Woman (Ornette Coleman). Maar ook populaire songs zoals Mister Tambourine Man (Bob Dylan) en A Hard Day's Night (The Beatles) passen moeiteloos in de flow. Jeanne Lee leeft zich lekker uit in Hallelujah, I love Him So (Ray Charles) en Ja-Da (Bob Carleton).
Ran Blake gaat solo in Honeysuckle Rose (Fats Waller), God's Image (traditional) en eigen werk: Smoke After Smoke, Birmingham U.S.A., The Frog, The Fountain, and Aunt Jane.
Zangeres Dominique Eade (die met Ran Blake in duo opnam) vat het mooi samen: "Lee is remarkably poised and deliberate melodically, rhythmically an emotionally, even as Ran responds and adapts, lags behind or scouts ahead, fracturing and remolding the terrain underfoot in a way no other pianist can".
Hoewel een halve eeuw oud blijven het inspirerende performances en maakt dit Never Heard album zo het plaatje van de schaarse duo-opnames van Lee en Blake enigszins rond.

© Bernard Lefèvre

Jeanne Lee (zang)
Ran Blake (piano)