Jean-Marc Hébert - L'Origine Éclatée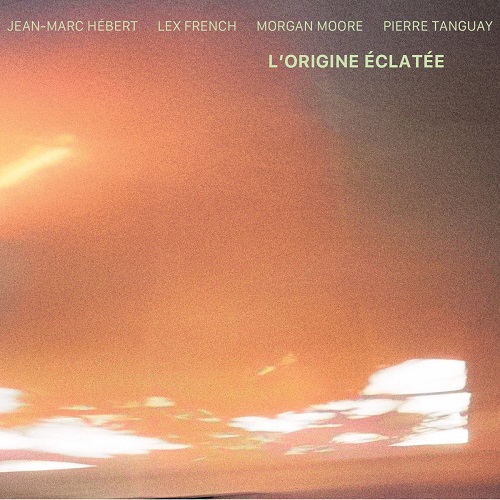 J
self produced
Jean-Marc Hébert is a guitarist and composer based in Canada, initially trained in classical guitar which shows in the economy and precision of his playing. This is his third project as a composer/leader after "L'Autre" (2007) and "L'Attente" (2018) recorded with Marianne Trudel and Rémi-Jean Leblanc.
For "L'Origine éclatée" he has recruited three of the most highly regarded jazz musicians in Canada: Pierre Tanguay, drums, Lex French, trumpet and Morgan Moore double bass. They are all very fine players who work together to create a carefully tuned ensemble.
The style is built around arpeggiated guitar figures with conversational bass and drum parts - rather than "grooves" - and strong trumpet lines, sometimes with Harmon mute. Hébert's echo treated and "squeezed" electric guitar sound often recalls Bill Frisell. The compositions have nicely oblique modal melodies which also remind me of Michael Landau, albeit with less blues bending and more bebop lines. The approach to combining guitar, bass, drums and trumpet also produces sonic similarities with the current Steve Gadd band, quite an achievement in itself.
Hébert mentions influences from African and Indian music. African elements are most prominent on "Terre rouge", a beautiful atmospheric track with pizzicato guitar, pentatonic melodies and a 16 beat rhythm not unlike Orchestra Baobab. It's one of two tracks featuring just the trio of guitar, bass and drums. The Indian influence is more apparent in the form of the compositions, which rely on collective improvisation to develop the themes and modes, and also to create tension and release. To my ears this is more successful on some tracks than others.
After a few listens the themes of each composition are memorable and haunting, and I imagine the band is exciting to see live. The album has a great sonic unity and its strengths include inventive improvisation from all four musicians and a superbly spacious recording.
Even better, it's available on Bandcamp so you can listen up to three times before deciding to buy.

© Stephen Godsall