Jean-Marc Foltz – Wild Beasts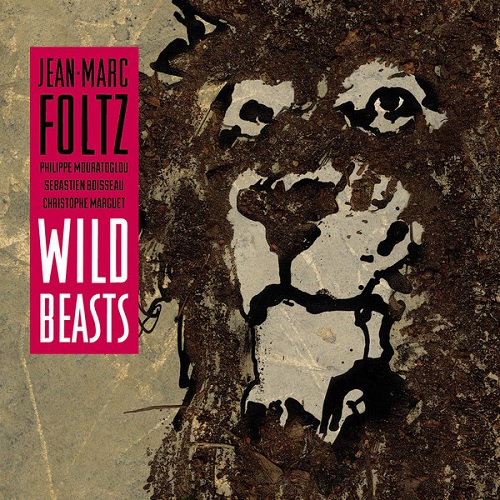 J
Vision Fugitive
Eerst een titel zoeken en dan componeren of omgekeerd? Voor veel muzikanten blijft het vaak een tweestrijd. De Franse klarinettist Jean-Marc Foltz vond een andere oplossing voor zijn recente cd. Hij kreeg een reeks natuurfoto's met dieren in handen, inspireerde zich daarop om te componeren en de titels volgden vanzelf. Een ambitieus project dat nu verscheen met bijhorend fotoboek.
Foltz houdt duidelijk van een totaalconcept waarbij muziek gekoppeld wordt aan visuele omkadering. Voor 'Visions Fugitives' en 'Nowaten' was dat alleszins zo. 'Wild Beasts' past helemaal in het rijtje. Als muzikant neigt Foltz net iets meer naar Michel Portal dan Louis Sclavis alhoewel in deze cd invloeden van beide grootmeesters opduiken.
'Wild Beasts' is de soundtrack voor een picturale trip door de savanne. Voor dag en dauw hoor je de drums in de verte aanzwellen. Stilaan verschijnen de eerste dieren rond de oase om te drinken. Meteen ook een van de gevaarlijkste tijdstippen van de dag. Predators liggen op de loer. Wat als een bucolisch moment begon, ontaardt al vlug in helse achtervolgingen. 'Run To Live' zoals de titel aanduidt met klarinettist Foltz die de actie op de hielen volgt en commentaar levert met zijn instrument terwijl drummer Marguet, bassist Boisseau en gitarist Mouratoglou de spanning verder accentueren. Het begin van een drie kwartierlange safari uitstap.
Als doorwinterde verkenners onderzoeken Foltz en zijn drie medegidsen elk spoor, heel omzichtig en stapvoets ('Croc'). Onnodige risico's worden vermeden. Alhoewel ze elk bosje en elke struik kennen, blijft voorzichtigheid geboden terwijl je toch continu aanvoelt dat elke stap tot een nieuwe confrontatie kan leiden ('Betty Devil'!). Dodelijke taferelen worden gelukkig afgewisseld met meer bespiegelende shots ('Lions Die Alone', 'Peaceful Majesty'). Grootsheid wordt tot in de meest minuscule details uitgewerkt ('Hippopotorganum Magnum'). De tocht eindigt met een speels tafereel ('Monkey Rag Suite'). Een passend hoofdstuk voor Foltz zijn eigen 'Jungle Book'.
De foto's (in zwart-wit) van fotograaf Nicolas Bruant weerspiegelen de donkere ondertoon van het hele opzet. Ook de hoestekening van Emmanuel Guibert, wiens strip 'Le Photographe' een klassieker is, sluit hierbij aan.
De enige overlevingskans voor de cd is net het uitbrengen onder de vorm van dergelijk kunstwerkje. Zeker wat anders dan Vangelis zijn 'La Fête Sauvage' en vooral niet voor zondagtoeristen die enkel zweren bij 'A Swingin' Safari' van Bert Kaempfert of 'A Rambler On Safari' van Eddie Calvert (wel beide met de beste kitsch hoezen in het genre).
© Georges Tonla Briquet



Musici :
Jean-Marc Foltz: klarinetten
Philippe Mouratoglou: gitaren
Sébastien Boisseau: contrabas
Christophe Marguet: drums

www.visionfugitive.fr