Jasper Somsen - A New Episode in Life Part 2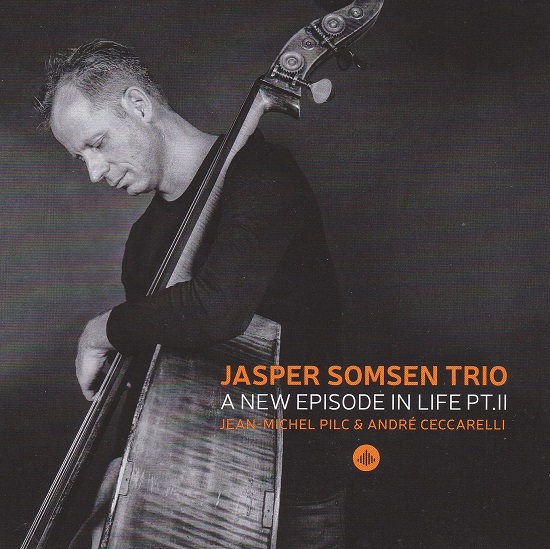 J
Challenge Records
Avec des collaborations avec Enrico Pieranunzi, Joey Calderazzo, Justin Faulkner, Jeff Ballard et bien d'autres, le contrebassiste hollandais Jasper Somsen s'est déjà forgé un curriculum vitae impressionnant.
Son nouveau trio ne manque lui non plus pas d'allure : le batteur André Ceccarelli, il l'avait déjà fréquenté lors de ses concerts avec le pianiste italien Pieranunzi ; quant au pianiste Jean-Michel Pilc, il était un premier choix du contrebassiste, d'autant que celui-ci est un partenaire fidèle de Ceccarelli depuis plus de vingt ans. Le trio formé, restait à fixer deux jours d'enregistrement au studio Motor Music de Mechelen. En fait, un jour suffit pour enregistrer un premier album, un deuxième alait naître le lendemain en sept heures à peine ! D'où le titre de ce deuxième opus A New Episode in Life Part 2.
Dès les premières notes, on ressent cette spontanéité d'une session d'enregistrement où l'improvisation libre et les standards allaient constituer la base du programme, les thèmes composés par le contrebassiste ayant été enregistrés la veille ! Solar Suite (inspiré bien sûr par le thème de Miles Davis) et Blue Monk - avec un grand solo de Somsen - étaient enregistrés en une seule prise de vingt-trois minutes ! Un régal d'inspiration sans temps mort, une version de la composition de Monk pleine de verve où on entend le pianiste célébrer Santa Claus is Coming To Town. Suivent quelques standards inspirés comme Someday My Prince Will Come lui aussi ponctué de citations, All The Things You Are en tempo lent, tout comme All of You de Cole Porter.
A tout moment, on se régale de la précision et de l'invention du jeu d'André Ceccarelli et de la continuelle inventivité de Pilc. Voilà un jazz pris sur le vif qui fait autant de bien à ceux qui l'écoutent qu'à ceux qui le jouent. Réjouissant d'un bout à l'autre !
Jean-Pierre Goffin