Jason Miles - To Grover with Love: Live in Japan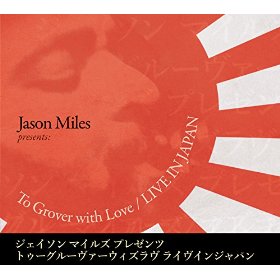 J
Whaling City Sound / Jammin Colors
Avec "Kind of New", chroniqué dernièrement, Jason Miles, compagnon de route du Miles Davis de la période électrique (albums "Tutu" et "Amandla"), célébrait, avec nostalgie, le jazz fusion des années '70 (Weather Report, Miles, The Crusaders). Le voici dans un autre hommage dédié à la mémoire du multi-saxophoniste Grover Washington.
D'abord influencé par Coleman Hawkins puis Dexter Gordon avec qui il avait gravé "American Classic", celui-ci avait surtout connu le succès, plus tard, avec "Inner City Blues" et "Mister Magic" (1974), au travers d'un jazz fusion très groovy.
Jason Miles a bien connu Grover Washington, il a notamment enregistré avec lui "Mr X". Par la suite, il lui a rendu hommage avec "To Grover with Love" puis "Two Grover with Love", un répertoire qu'il reprend ici en live au Blue Note de Tokyo. Il s'est pour cela entouré de deux saxophonistes véloces, Andy Snitzer (album " American Beauty" en 2015) et Eric Darius (Retro Forward, 2014), du guitariste Nick Moroch et de musiciens qui ont longuement côtoyé Grover Washington: le bassiste Gerald Veasley, le batteur Buddy Williams et le percussionniste Ralph Mc Donald.
Pour ce "Live in Japan", Jason Miles reprend 4 compositions du multi-saxophoniste (Sassy Stew, Take me there, Lorans Dance, Let it flow) le célèbre Inner City Blues de Marvin Gaye, Winelight de William Eaton, Black Frost de Bob James et deux compositions du percussionniste Ralph Mc Donald (Mr Magic et Just the two of us, interprété avec le chanteur Ryan Shaw en invité).
Sur fond de rythmique groovy à souhait - claviers électriques, guitare, basse (belles intros sur Let it flow et Mr Magic), batterie et percussions, les deux saxophonistes font alterner tempos volontiers dansants (Winelight, Sassy Stew, Lorans Dance, Black Frost), avec atmosphère bluesy (Inner City Blues) et ballades enjôleuses (Take me there et Just the two of us), avec une sonorité suave.
Un retour au jazz fusion des années '70 qui a visiblement beaucoup plu au public japonais.

Claude Loxhay