Jan Lundgren / Emile Parisien / Lars Danielsson - Into the night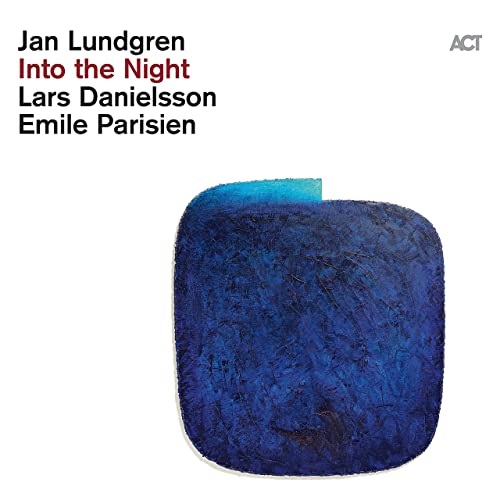 J
ACT
Bien sûr, à l'occasion d'un séjour aux Etats-Unis, Jan Lundgren a accompagné des musiciens américains comme Benny Golson ou Johnny Griffin, dans le plus pur jazz classique, mais son tempérament le fait plutôt incliner vers un lyrisme mélodique d'une grande quiétude, des mélodies simples à l'image de certains traditionnels nordiques.
Le pianiste a ainsi enregistré, en solo, l'album "Man in the fog", au titre révélateur d'un climat clair obscur. Mais sa passion, c'est le trio sans batterie. Il a ainsi fondé "Mare Nostrum" en compagnie de Richard Galliano et Paolo Fresu, trio qui, entre 2007 et 2019, a enregistré trois albums.
Le voici, en direct du Jazz Festival d'Ystad, petite ville portuaire du Sud de la Suède, en compagnie de deux autres complices: au saxophone soprano, le Français Emile Parisien et à la contrebasse, le Suédois Lars Danielsson. On avait découvert le Français à la tête de son quartet, avec le pianiste Julien Touéry (plusieurs albums dont "Spezial Snack"), puis au sein de différentes formations avec l'accordéoniste Vincent Peirani, (du duo de "Belle Epoque" au groupe présenté au Mithra Jazz à Liège voici peu).
Il a aussi enregistré avec d'autres pianistes, comme Roberto Negro (le très libertaire Dadada), l'Allemand Michael Wollny (album XXXX en 2021) ou Joachim Kühn (splendide "Sfumato"). De son côté, Lars Danielsson s'est tourné vers le jazz et la contrebasse après avoir assisté à un concert du légendaire Niels-Henning Ørsted Pedersen. Il a croisé la route de nombreux musiciens américains comme Rick Margitza, Charles Lloyd, Michael Brecker, John Scofield ou Jack DeJohnette. Il a enregistré, en 2018, "Summerwind" en duo avec Paolo Fresu et fondé Liberetto, en compagnie du guitariste John Paricelli et du trompettiste Arve Henriksen.
Au programme de ce Into the night, trois compositions de Lundgren dont "Into the night", deux de Danielsson (dont "Ystad" qui clôt l'album), une d'Emile Parisien ("Préambule"), une du copain Peirani ("Schubertauster") et un traditionnel, arrangé par Lundgren. Dès la première plage, le traditionnel "Glädjens Blomster", le ton de l'album est donné: des mélodies simples qui virevoltent au gré des trois complices. U
n soprano fluide, aérien, qui chante la mélodie; une ligne de piano limpide, une contrebasse aux accents mélodiques. Toujours très lyrique, les compositions originales, de "Préambule" de Parisien, à "I do" de Jan Lundgren ou "Ystad" de Danielsson, sont toujours lyriques à souhait, parfois teintées de mélancolie ("Asta").
D'autres thèmes sont plus vifs ("A dog named jazze") ou alors, comme cette composition de Peirani, adopte la légèreté et  la voltige de Schubert ("Scubertauster"). Parfois, c'est la contrebasse qui introduit le morceau ("Préambule"), parfois c'est le piano ("I do"), mais vite relayés par le soprano volubile d'Emile Parisien.
Une plongée dans les climats et paysages scandinaves.
© Claude Loxhay
Une collaboration JazzMania / Jazz'halo