Jan Garbarek & The Hilliard Ensemble - Remember me, my dear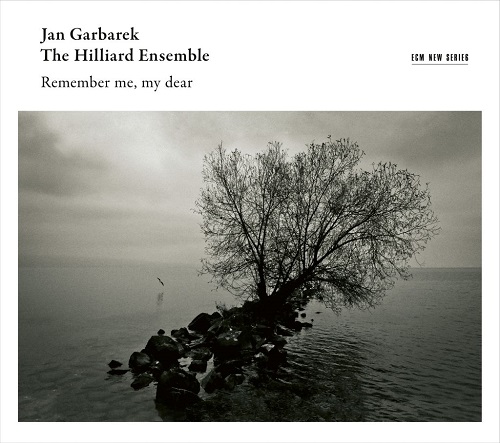 J
ECM New Series
Dit album bundelt de afscheidstournee (oktober 2014) van het 'Officium' project. De eerste samenwerking van Jan Garbarek en het Hilliard Ensemble als 'Officium' werd in 1994 uitgebracht. Later volgde het album 'Mnemosyne' (1999) en 'Officium Novum' (2010).
'Remember me, my dear' werd live opgenomen in de Chiesa della Collegiata del SS.Pietro e Stefano, Bellinzona (Zwitserland) in oktober 2014, enkele maanden vooraleer het Hilliard Ensemble werd ontbonden. Een afscheidsconcert waarin de hoogtepunten van hun albums met Garbarek aan bod kwamen.
Zoals op 'Officium Novum' opent het concert met 'Ov zarmanali' waarna nog andere nummers van Novum volgen ('Allting finns', 'Litany'), en een nieuw stuk: 'Procurans odium'. Nog van Novum krijgen 'Most holy Mother of God' van Arvo Pärt en 'We Are The Stars' van Jan Garbarek een sublieme herbeleving. Daartussen schitteren 'Sanctus' en 'Procedentum sponsum'uit Officium.
Uit Mnemosyne pikken ze de draad op met Guillaume le Rouge's 'Se Je Fays Dueil', 'Alleluia Nativitatis', 'O Ignis Spiritus', 'Agnus Dei' en eindigen met 'Remember me, my dear'. Natuurlijk speelt de locatie en het publiek evenals de altijd uitzonderlijke interactie van de sacrale klanken en Garbareks sopraansaxofoon mee voor een unieke belevenis. Dat konden we gelukkig nog zelf ervaren in mei 2012 in de uitstekende setting van de Sint-Romboutskathedraal in Mechelen. Een onvergetelijke ervaring!
Het Hilliard Ensemble, opgericht in 1973, hield het voor bekeken in december 2014. Jan Garbarek (72) blijft natuurlijk nog wel met zijn eigen groep doorgaan.
© Bernard Lefèvre





Musici:
The Hilliard Ensemble
David James (contratenor)
Rogers Covey-Crump (tenor)
Steven Harrold (tenor)
Gordon Jones (bariton)

Jan Garbarek (sopraansaxofoon)