Jan De Haas Vibes Quartet - Dreams Ago (ferdinand Dupuis-Panther)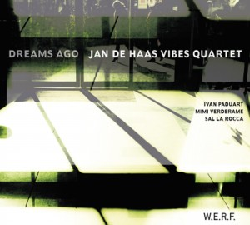 J
Werf records, W.E.R.F 123, 2014
Was haben Lionel Hampton, Gary Burton, Milt Jackson und Jan de Haas gemeinsam? Es ist das Instrument: das Vibrafon, wobei de Haas, der am renommierten Berkley USA Jazz Institute seinen Abschluss mit summa cum laude bestanden hatte, auch Marimbafon spielt. 
Für die vorliegende Aufnahme auf dem Werf-Label – es ist nach zehn Jahren die zweite CD-Veröffentlichung überhaupt – scharte er den bekannten Pianisten Ivan Paduart, den Kontrabassisten Sal La Rocca und den Schlagzeuger Mimi Verderame um sich. Als Gäste kamen der Perkussionist Chris Joris und die Vokalistin Raphaëlle Brochet hinzu.
Drei Kompositionen für die vorliegende Einspielung sind Ivan Paduart zu verdanken. Sal La Rocca zeichnete für "Pas d'homme" und "Strollin' with J. L." als Komponist verantwortlich. Aber wer ist J. L.? – Und schließlich spielt das Quartett noch zwei Kompositionen von Verderame, ehe die CD mit einem Titel von Cole Porter ausklingt – das "Great American Songbook" also zum Schluss!
Mit einem leichten Windzug – "Draft" – eröffnet das Quartett den musikalischen Reigen. Dezent ist das Schlagzeug gesetzt, akzentuiert-rhythmisch das Pianospiel. Beinahe im Duett spielen im weiteren Verlauf des Stücks Vibrafon und Piano zusammen. Glockenhell erklingt die Stimme von Raphaëlle Brochet in Ergänzung zu den Pianopassagen und Vibrafonläufen. Lauscht man nachfolgend "Débauche", dann ist das fließende, beinahe an ein Brunnenplätschern erinnernde Pianospiel von Ivan Paduart nicht zu überhören. Wie auch bei "Draft" liegt zart gehaucht und beinahe nicht wahrnehmbar der Scat-Gesang von Raphaëlle Brochet über dem eingängigen Melodiefluss.
"Strollin' with J. L" ist zwar nicht so ein "Ohrwurm" wie "Walking in the rain", doch man kann sich gut Spaziergänger oder geschäftige Fußgänger auf den Boulevards dieser Welt beim Shopping vorstellen. Musikalisch trifft ein leicht "nervöses Schlagzeug" auf südamerikanische Klangwolken, dem Vibrafonspiel de Haas seien sie gedankt. Ist es nun ein Bossa Nova oder nicht, den man bei "Dreams Ago" hören kann? Schnellläufiges, zartes Marimbafonspiel und der "nontextuelle" Gesang von Brochet lassen uns bei dieser Paduart-Komposition gebannt die Ohren spitzen. Fazit: eine gute Portion easy listening für kalte oder graue Tage, um "die Seele zu streicheln" – und das ist gut so.
Text: ferdinand dupuis-panther
Informationen

Musiker/Homepages
Jan de Haas
https://myspace.com/jandehaas
https://myspace.com/jandehaas/music/songs
Ivan Paduart
http://www.ivanpaduart.com/
http://www.sallarocca.com/
http://www.mimiverderame.com/
Produzent und Label
http://www.dewerfrecords.de
Review also published here: http://www.belgieninfo.net/jan-de-haas-vibes-quartet-dreams-ago/