James Brandon Lewis Quartet - Molecular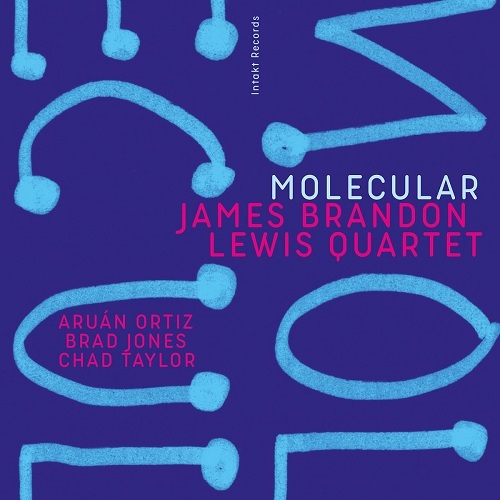 J
Intakt
Dernièrement, et je n'avais pas été le seul, j'avais vanté le duo de James Brandon Lewis avec le batteur Chad Taylor (Live in Willisau).
Revoici le ténor né en 1983 à Buffalo. Héritier d'une longue tradition du saxophone ténor, de John Coltrane à David Murray, en passant par Archie Shepp, Albert Ayler ou Pharoah Sanders, il a notamment enregistré, en 2014, Divine Travels, avec William Parker et Gerald Cleaver, ou No Filter en trio en 2017.
Il retrouve ici le batteur Chad Taylor, né en 1979 et qui a enregistré avec la nouvelle scène américaine des années 2000: Cooper-Moore, Assif Tsahar (deux musiciens avant-gardistes invités à Oupeye du temps de Jazz at Home) mais aussi Marc Ribot. A la contrebasse, Brad Jones qui a côtoyé la chanteuse Youn Sun Nah. Et, au piano, le natif de Santiago de Cuba, Aruán Ortiz qui a gravé plusieurs albums en trio pour Intakt: Inside rythmic fall, Live in Zurich, Hidden Voices. Mais aussi un solo, très cubain, Cub(Am)Ism et un album avec Don Byron, Random Dances.
Pour ce Molecular, une suite de 11 compositions personnelles, dédiée à ce qu'appelle Brandon Lewis "influence of the molecular biology", ce qu'il explique dans un texte de pochette. Mais pas besoin de se plonger dans ses explications pour approcher cette musique incandescente et passionnante. Il se dit influencé par la tradition des spirituals afro-américains et tout le jazz qui en a découlé.
Brandon Lewis a complètement assimilé toute l'histoire du ténor moderne: Coltrane, Pharoah Sanders, Archie Shepp, Albert Ayler ou David Murray, il les transcende dans un style personnel et original. Il possède une sonorité écorchée et véhémente à souhait sur certaines compositions (A Lotus Speak au terme d' une mélodie volontiers répétitive, Helix avec ses phrases hachées, An Anguish Departed, après une longue et passionnante intro de piano), mais il peut aussi préférer une sorte de sérénité apaisée (On first importance, Molecular).
Il reste attaché aux grands noms de la négritude comme dans Césaire, l'auteur du Cahier d'un retour au pays natal pour saluer: "Ceux qui n'ont connu que des voyages de déracinement". Il laisse une place importante à ses collègues: Aruán Ortiz qui revendique ses origines afro-cubaines sur Per 1 et 2, prend de beaux solos sur Beaking Code ou An anguish departed ou Brad Jones à l'archet sur Neosho et soliste sur Loverly tout en sérénité.
Un des meilleurs saxophonistes américains du moments, héritier de toute une tradition.
© Claude Loxhay