James Brandon Lewis – Chad Taylor - Live In Willisau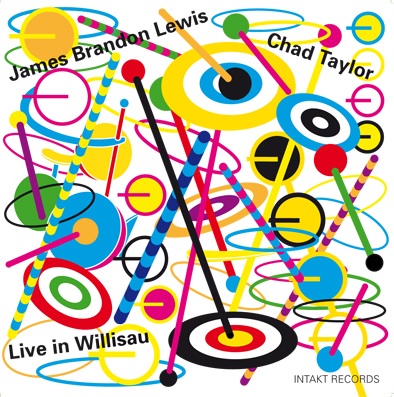 J
Intakt
Begin 2018 brachten tenorsaxofonist James Brandon Lewis en drummer Chad Taylor hun duoplaat 'Radiant Imprints' uit. Het was de ideale gelegenheid om samen de baan op te trekken. Een van de stopplaatsen was het festival in Willisau waar deze cd ingeblikt werd.
Het festival in het Zwitserse Willisau heeft in de loop der jaren (2019 was de vijfenveertigste editie) steeds de focus gelegd op freejazz en zijn Afro-Amerikaanse exponenten. Er werden mettertijd legendarische opnamen gemaakt, waaronder verschillende duo's van drummer en saxofonist. In deze reeks vinden we onder meer 'One In Two-Two In One' van Max Roach en Anthony Braxton, 'The Long March' van diezelfde Max Roach maar dan met Archie Shepp en 'The Dynamic Duo Remember Trane & Bird' (Rashied Ali & Arthur Rhames).
In Willisau waren we nog nooit, wel in Sant'Anna Arresi (Sardinië) waar de organisators van het Ai Confini Tra Sardegna e Jazz festival eenzelfde visie en opvatting hebben. Daar zagen we in september 2018 Chad Taylor en James Brandon Lewis als duo aan het werk. We schreven daarover "hyperkinetische drumcapriolen evoceerden de gouden periode van freejazz en pure improvisatie, de ganse tijd gelardeerd met koerswijzigingen en volumewissels." (lees hier de festivalrecensie). Een jaar later stonden de twee met zowat hetzelfde programma op het podium in Willisau en kunnen we een identieke omschrijving hanteren.
Een gelijkaardige vurige start aan de hand van 'Twenty Four', 'Radiance' en 'Matape'. Dezelfde connecties komen ook hier naar voor. John Coltrane blijft voor deze heren duidelijk een aantrekkingspool, net als Max Roach. De drumbeats van Art Blakey zitten er eveneens in vervat bij Taylor terwijl Lewis het hele gamma tussen Rollins en Jon Irabagon meesterlijk hanteert en heruitvindt. Eveneens heel veel blues, soul en funk maar dan meestal op vervormde kubistische wijze. Enkele malen doet dit denken aan Devo, zeker in de haast sjamanistische bewerking van Mal Waldrons 'Watakushi No Sekai'. Ze laten Afrika nooit los. Taylor is zelfs een paar keer te horen op duimpiano ('Come Sunday' van Ellington en hun eigen 'With Sorrow Lonnie'). Meteen de twee opmerkelijke rustpunten tussen voor het overige hoogst ontvlambaar materiaal.
Extra historisch weetje: het nummer waarmee ze hun set afsloten (nadien nog gevolgd door een bis) was 'Willisee' van Dewey Redman. In 1980 hadden Redman en Ed Blackwell dat op hetzelfde podium gespeeld. Wie 'Red And Black In Willisau' in huis heeft, kan beide versies vergelijken. Voor Taylor en Lewis was dat trouwens een plaat die hen beiden inspireerde. De bis op 'Live In Willisau ('Under/Over The Rainbow' uit 'The Wizard Of Oz') is een extra kans om met vuurwerk af te sluiten. "Toto, I have a feeling we are not in Kansas anymore," zou Dorothy gezegd hebben.
© Georges Tonla Briquet

Bezetting:
James Brandon Lewis: tenorsaxofoon
Chad Taylor: drums, mbira

www.intaktrec.ch