James Brandon Lewis & Chad Taylor - Live in Willisau (cl)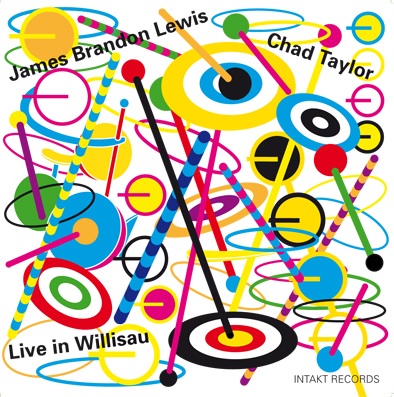 J
Intakt
Le présent duo saxophone ténor - batterie a été enregistré, en septembre 2019, lors du 45e Willisau Jazz Festival, haut lieu du jazz libertaire, voire free en Suisse, comme le sont Moers en Allemagne et Le Mans en France. Ce n'était pas le premier duo de ce type sur la scène du festival: en 1980, Dewey Redman et Ed Blackwell jouaient sur la même scène, dans un répertoire repris sur l'album Red and Black in Willisau. Comme le mentionne l'excellent livret de l'album (une qualité que les fidèles du label retrouvent lors de chaque production), cette forme de duo, vrai exercice d'équilibristes, se retrouve dans de nombreux albums: One in two,two in one de Max Roach et Anthony Braxton, The long march d'Archie Shepp en compagnie du même Max Roach ou Interstellar Space de John Coltrane avec Rashied Ali et Radiant imprints qui réunissait déjà James Brandon Lewis et Chad Taylor. Une liste à laquelle on pourrait ajouter Ten Tales qui réunit Joe Lovano et Aldo Romano.
Né en 1983, James Brandon Lewis a d'abord baigné dans le gospel d'une église voisine, ce qui donne cette énergie spirituelle qui traverse sa musique comme celle de Coltrane, mais aussi de Sonny Rolllins, comme le montre son album Divine Travels enregistré avec William Parker et Gerald Cleaver. Dès 2010, il enregistre Moments, qu'ont suivi Days of Freeman en 2015, Radiant Imprints en 2018 et An UnRuly Manifesto de 2019, en compagnie du trompettiste Jaimie Branch.
De son côté, Chad Taylor a grandi à Chicago où il a formé le Chicago Underground Duo avec le cornettiste Rob Mazurek. Il a étudié à la New School of Jazz, avec Joe Chambers et Pheeroan ak Laff. Il a croisé des saxophonistes comme Pharoah Sanders, Roscoe Mitchell, Charles Gayle, Assif Tsahar, Tony Malaby ou Ellery Eskelin. Il a notamment enregistré Surreality avec Dave Liebman et A pride of lions avec Joe Mc Phee.
La complicité entre les deux musiciens comme l'interaction mutuelle sont totales.
D'un côté, un ténor à la sonorité puissante, d'une volubilité fiévreuse (Twenty four, Imprints) comme d'une sérénité spirituelle (Radiance ou Watakushi no Skai).
De l'autre, un percussionniste qui explore toutes les potentialités de la batterie (jeu avec baguettes comme jeu à mains nues), auxquelles il ajoute la fluidité mélodique d'un Mbira, sorte de grande sanza, sur Come Sunday d'Ellington ou ce With Sorrow Lonnie que les deux complices ont co-écrit.
Au répertoire de cet album passionnant de bout en bout, des compositions originales (Matape de Chad Taylor), la plupart co-écrites (plusieurs au tempo enflammé comme Twenty four, ou Imprints, d'autres apaisées comme With sorrow Lonnie). Mais aussi des emprunts transfigurés par des arrangements élaborés et marqués d'une réelle originalité: Radiance de Coltrane, Come Sunday d'Ellington, Watakushi no Sekai de Mal Waldron, Willisee de Dewey Redman ou cet Under/Over the Rainbow inspiré d'Harold Arlen.
Là où des free jazzmen se lancent dans des improvisations totales, souvent aléatoires et peu propices aux interactions, les deux musiciens allient maîtrise de l'impro et subtilité de l'écriture comme des arrangements.
Un très bon cru Intakt.
© Claude Loxhay