Jakob Bro – Bay Of Rainbows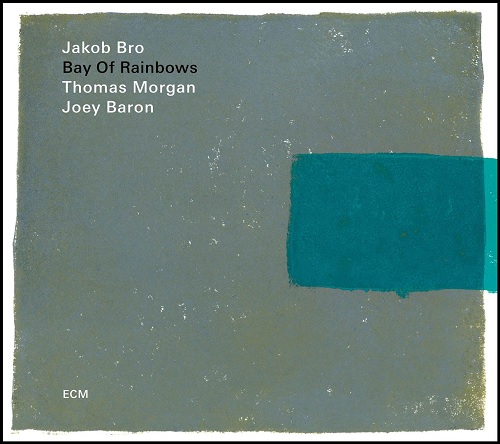 J
ECM
Jakob Bro wordt al een aantal jaar beschouwd als een van de nieuwe gitaargoden in de jazz. Met deze 'Bay Of Rainbows' bevestigt hij moeiteloos die status bij zijn aanhangers.
In juli 2017 stond de Deense gitarist Jakob Bro twee avonden op het podium van de legendarische New Yorkse Jazz Standard. Van die concerten werd een selectie gemaakt en nu uitgebracht onder de titel 'Bay Of Rainbows'.
Wat meteen opvalt, is dat studio en live podium bij deze gitarist geen totaal verschillende werelden vormen. Van meet af aan hoor je de vertrouwde klank van onthaasting. Gitarist, bassist en drummer weven een ragfijn spinnenweb dat kunstzinnig glinstert maar na een tijdje ook een schaduwzijde heeft.
De drie zijn grootmeesters in beheersing. Heel subtiel genereren ze een melodieuze golf die in slow motion voorbijglijdt. De instrumenten blijven ingebed in een naadloos sluitende structuur waarbinnen echter heel veel open ruimte is. Af en toe proberen ze de vaste basis wat scheef te trekken maar uiteindelijk wordt er nooit buiten het vastgelegde kader getreden. Alles zweeft als het ware in het ijle verder.
Een uitzondering is het tegendraadse 'Dug' waarin de contrabas alles en iedereen wat steviger vooruit stuwt en gitaar en drums eigen bakens uitzetten. Uiteindelijk komen ze allemaal opnieuw op een rechte lijn samen.
Sterk hoe dit trio in de context van een jazzclub de desolate en mysterieuze sfeer van de studio zo nauwkeurig kan evenaren. Meteen ook een kleine maar fijne bloemlezing uit de discografie van Bro.




Musici:
Jakob Bro: gitaar
Thomas Morgan: contrabas
Joey Baron: drums


Live 2018:

13.11, 20u15.: CC Sint-Truiden
http://www.debogaard.be/programma/jakob-bro-trio/
18.11, 14u (!): Jazz Brugge (Concertgebouw)
https://jazzbrugge.kaap.be/


© Georges Tonla Briquet