Júlio Resende Fado Jazz - Sons of Revolution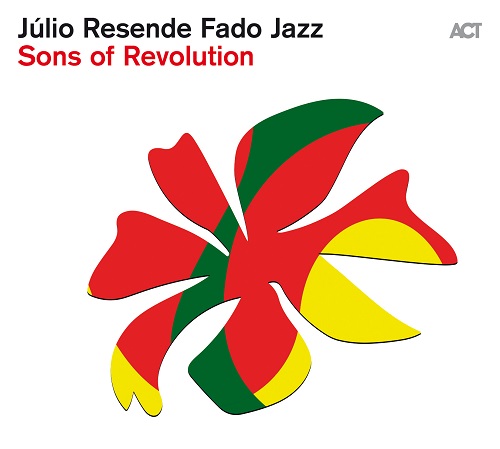 J
ACT Music
Pianist Júlio Resende (41) ontdekte ik voor het eerst via een artikel in een luchtvaartmagazine tijdens een vlucht naar Porto in 2013. Toen verscheen zijn 'Amália Por Julio Resende' of fado melodisch benaderd met piano en niet als loutere begeleiding.
Sindsdien heeft hij zich als Fado Jazz pianist verder verdiept in de spirit van Portugese muziek. Júlio Resende zocht vanuit de vrije improvisatie naar het heruitvinden van de Portugese muziek en vond die het best te verenigen met jazz, vandaar Fado Jazz. Vorig jaar verscheen zo, met zijn vertrouwd trio, het album 'Fado Jazz' bij ACT Music.
Nu pakt hij in 'Sons of Revolution' uit met een krachtig statement, wat hem nauw aan het hart ligt, want zijn Angolese vader emigreerde na de Anjerrevolutie in 1974. Die maakte een eind aan het ruim veertig jaar met militair geweld verdedigen van de Portugese koloniale belangen in Afrika en Azië. "Without the revolution, I wouldn't even exist," stelt Júlio Resende. "My father is from Angola, he emigrated to Portugal after the revolution, and met my mother. The freedom to express myself is one of the dearest things to me, and jazz is the music that enables that the most – without any borders or restrictions."
Resende linkt zijn composities aan vertrouwde tunes zoals 'Sodade' ('End of Colonial War! No Saudade'), een improvisatie over 'Vou dar de beber à dor' van Amália Rodrigues ('Portugal Dances Another Mariquinhas') en ook over 'Traz Outro Amigo Também' van Zeco Afonso en nog samen met Bruno Chaveiro een stukje ontleend aan 'Ondulância' van Custódio Castelo ('Peace at Last'). Daarnaast gaat het om geheel originele muziek die vanuit de Portugese ziel van de fado vertrekt en hij prachtig verenigt met jazz. Geheel apart is 'Fado Poinciana for Ahmad Jamal' van Nat Simon, bewerkt door Resende, dit keer vanuit jazz naar fado.
En het album sluit af 'A Casa Dela/Her House' gezongen door Eurovisiewinnaar Salvador Sobral en een eerbetoon aan dichter/componist João Monge.
De interactie van Júlio Resende op piano met de Portugese gitaar van Bruno Chaveiro, ook bekend als componist en begeleider van onder meer Carminho en Ana Moura, is bezield en kleurrijk en van een uitzonderlijk niveau in jazz.
Júlio Resende evoceert met zijn unieke Fado Jazz in 'Sons of Revolution' de vrijheid van expressie in jazz met een diepe affectie voor de Portugese traditionele muziek. Voor wie zowel fado als jazz genegen is een verrassende ontdekking.

© Bernard Lefèvre




Musici:
Júlio Resende (piano)
Bruno Chaveiro (Portugese gitaar)
André Rosinha (contrabas)
Alexandre Frazão (drums)
Gast:
Salvador Sobral (zang)