1000: Jan Klare-Bart Maris-Wilbert de Joode-Michael Vatcher: 1000 Anthems to work on a good end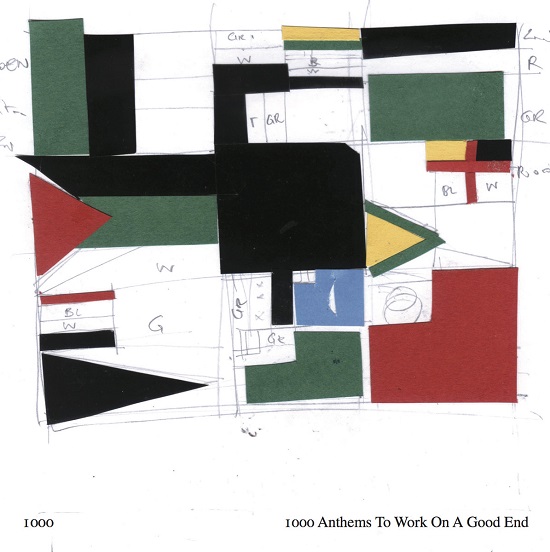 J
El Negocito Records
Le quartet 1000 existe depuis plusieurs années et compte plusieurs albums à son actif.

A la trompette, notre compatriote Bart Maris, un des piliers du Flat Earth Society, de Mocker et MikMâäk, entre autres.
Polyinstrumentiste qui allie, un peu à la manière de Michaël Moore, saxophone alto, clarinette et flûte, Jan Klare est né en Allemagne mais a gagné très vite la Grande Bretagne où il a joué avec Harry Beckett (tp) puis Amsterdam et ses adeptes du free jazz. Il a constitué l'orchestre The Dorf, le trio RKeT, avec Luc Ex à la basse et Michaël Vatcher à la batterie, et fondé le quartet 1000.
A la contrebasse, Wilbert de Joode, un musicien qui a côtoyé John Zorn comme Han Bennink et qu'on a entendu à Oupeye avec le saxophoniste J.C. Tans et à Bruges avec le Bik Bent Braam du pianiste Michiel Braam.
A la batterie, Michaël Vatcher. Installé à Amsterdam depuis 1977, on a pu l'entendre avec Michaël Moore, Ernst Reijseger (cello) et les pianistes Simon Nabatov et Georg Grawe.
Après deux albums revisitant des compositions classiques (Bach, Monteverdi, Wagner, Ravel, comme sur Unplayable played), le quartet 1000 a eu l'idée de consacrer un album aux hymnes: "la musique la plus populaire que vous puissiez imaginer", selon Stockhausen.
Une démarche qui peut rappeler celle de Charlie Haden reprenant des chants de la guerre civile espagnole avec son Liberation Music Orchestra ou celle d'Albert Ayler revisitant la Marseillaise sur Spirit Rejoyce.
Voici donc 1000 Anthems to work on a good end. Au total 20 courtes plages de 1minute11 à 4minutes47: soit six hymnes provenant d'Afganistan, histoire d'évoquer les nombreux bouleversements socio-politiques du pays au 20e siècle, cinq du Cambodge qui, lui aussi, a connu une histoire mouvementée, un de Chine, un de Syrie, deux de Niue, un atoll du Pacifique Sud, trois compositions collectives, une composition de Wilbert de Joode (Afganistan), et ce Refugia de Jan Klare dédié aux migrants.
D'une plage à l'autre, on navigue entre mélodies solennelles (Cambodia 1970, Syria, Afganistan 1943), thèmes joyeux emprunts d'humour (Cambodia 1979, Afganistan 1992, Niue), plage free (Afganistan 1973), ou mélodie au climat oriental (Cambodia 1979).
Le polyinstrumentisme de Klare permet de varier la palette sonore: clarinette-trompette (Four individuals inventing an anthem, Cambodia 1976, Afganistan 1978, Afganistan 1926 avec contrebasse jouée à l'archet, Afganistan 2006 avec trompette bouchée), flûte-trompette (Cambodia 1979, ou trompette bouchée sur Afganistan 1992), saxophone alto-trompette (Cambodia 1970, Refugia, China avec contrebasse jouée à l'archet, ou trompette bouchée sur Cambodia 1941) ou même une plage chantée avec une certaine dérision (Niue voices).
Voilà un album représentatif d'un jazz libertaire typique d'Europe du Nord.
Claude Loxhay