Ingrid Nomad - Let's Go Outside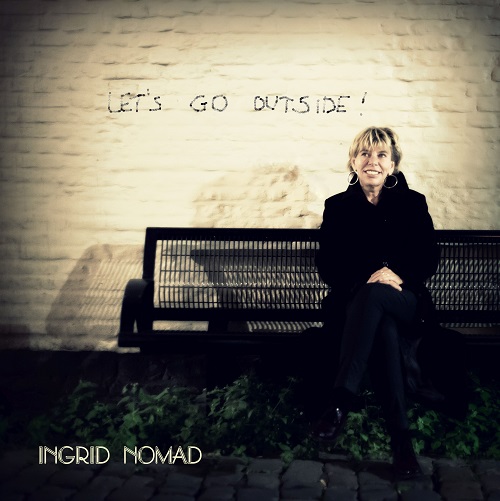 I
Indiblue Records
Zangeres Ingrid Nomad (alias voor Ingrid Van Hoorebeke) breidt in Let's Go Outside haar kwartet van de debuutplaat We Are One (2016) uit met de onlangs nog onderscheiden gitarist Lorenzo Di Maio (Jong Jazztalent Sabam Jazz Award 2019).
Die geeft al meteen in het openingsnummer If You Love een extra dimensie aan de eclectische zangstijl van Ingrid Nomad die op één nummer na (I Wanna Be Close To You – met Vincent Den Haese) de muziek en de lyrics schreef. Ze ontpopt zich als een bevoorrecht singer-songwriter met doorleefde verhalen. Over de onvermijdelijke liefde en relaties, verlangens, de wereld om haar heen. Heel sferisch en mysterieus roept ze met haar omfloerste stem en mooie frasering de emoties op.
Van het dromerige Look For The Rainbow, The Train, Blackbird, tot het diepgravende To The Bone, Don't Cry tot het meer luchtige My Brand New Shoes of het verhalende Let's Go Outside, Kurt, Painting Colors, A Mother's Daughter, en het eeuwige thema van de liefde (If You Love, I Wanna Be Close To You), telkens schildert ze fijne muzikale impressies die je raken.
Bovendien weet ze zich opnieuw meesterlijk omringd door de fijne toetsen van Sabin Todorov, de rake zingende bas van Sal La Rocca en de uitmuntende subtiele ritmiek van Stéphan Pougin. En de etherische gitaarklanken van Lorenzo di Maio verhogen de intense drive en versterkt heel bepalend haar diepgevoelige stem.
Je voelt haar groeiende eigen sound, zelfverzekerd, altijd zoekend en ook uit op experiment (Kurt met dissonante klanken, Painting Colors met een schitterende Pougin). Soms eindigt een stuk al eens abrupt, dus houdt het live nog heel veel potentieel in aan improvisatie en zien we het zich graag verder ontwikkelen.
Let's Go Outside betekent terecht een doorbraak voor Ingrid Nomad. Ze tekent voor eigengereide verhalen en een fijnzinnige oorstrelende stem.
© Bernard Lefèvre




Musici:
Ingrid Nomad (vocals)
Sabin Todorov (piano)
Sal La Rocca (contrabas)
Lorenzo Di Maio (gitaar)
Stephan Pougin (drums, percussie)