Iman Spaargaren & Undercurrent Orchestra - Everything Seems Different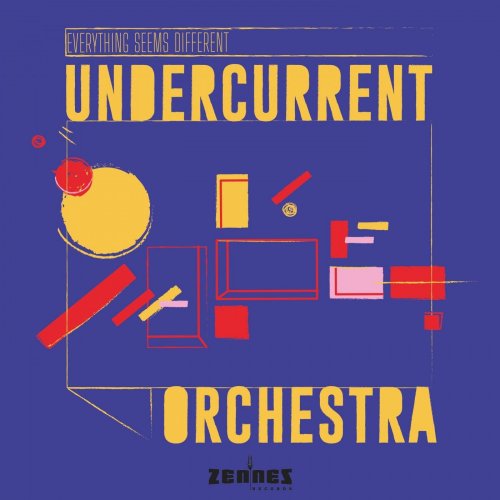 I
Zennez Records
Iman Spaargaren, leider van een Amsterdamse band Undercurrent Orchestra schreef voor dit album alle composities op eentje na ('Smoke Gets In Your Eyes'). Hij drukt daarin zijn muzikale gevoelens uit over de voorbije anderhalfjarige pandemieperiode: angst en hoop, verveling en inspiratie, verdriet en vreugde.
De titels spreken boekdelen en maken de verhalen levendig. Die roepen impressies op via introspectieve kamermuziek ('Wat Bedoel Ik?!', 'Waiting Room', 'De Vergeten Tijd') tot aanstekelijke grooves, latin ritmes en heftige improvisaties ('Strange How Everything Seems Familiar And Yet Different At The Same Time', 'Los Zapatoes'). De cello van Annie Tangberg legt fraaie accenten en trombonist Joost Buis en Iman Spaargaren drijven de spanning op.
Vol humor en tegendraads weerklinkt 'Scene Onderbroken Door Inkomend Telefoongesprek' met een glansrol voor trompettist Gerard Kleijn.
In 'Sub' en 'Shaba' neemt gitarist Guillermo Celano het voortouw stevig ondersteund door drummer Marcos Baggiani.
Een dromerige soundscape onderlijnt 'Françoise, Pourquoi?' tot een expressief geladen orchestraal juweeltje. Een buitenbeentje vormt 'Waltz For Undecided Minds & The Art Of Decision Making' waarin de hectische sound uitgroeit tot een apocalyptische smeltkroes.
Het album sluit af met de jazzstandard 'Smoke Gets In Your Eyes' wat Jerome Kern schreef voor de musical 'Roberta' (1933). Iman Spaargaren arrangeerde de song en koos die als een soort valse nostalgie van vrijheid en het geromantiseerd verlangen naar betere tijden.
Iman Spaargaren levert met de kleurrijke instrumentatie van Undercurrent Orchestra een evocatief album af dat beeldend past bij de nu lopende expo 'De Ontdekking Van Het Heden' (tot juni 2022) in het Noordbrabants Museum.

© Bernard Lefèvre


Undercurrent Orchestra
Iman Spaargaren (klarinet, tenor saxofoon, basklarinet)
Annie Tangberg (cello)
Gerard Kleijn (trompet, bugel)
Joost Buis (trombone)
Guillermo Celano (gitaar)
Marcos Baggiani (drums)

https://www.imanspaargaren.nl/