Ilugdin Trio – Reflection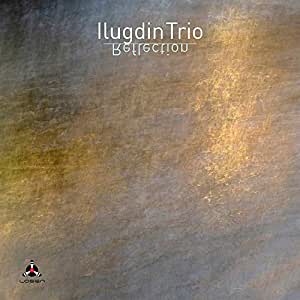 I
Losen Records
Benannt ist das Trio nach dem Pianisten Dmitry Ilugin. Am Kontrabass hören wir Victor Shestak und am Schlagzeug Peter Ivshin. In den Liner Notes des Albums wird der Bandleader mit folgenden Worten zitiert: "Reflection, the title track, shows the style I gravitate to in a most vivid way, a style where composition has the priority. It's more refined [than the trio's former album] in respect of form, and more separated from mainstream jazz."
Wer sich die Namen der Kompositionen anschaut, wird Anlehnungen an klassische Musik konstatieren müssen, gleichgültig, ob Stücke in ungewöhnlichen Takten gefasst sind wie 11/4. "Nocturne", "Prelude#4" und als Finale "Prelude#3" sind deutliche Fingerzeige, oder? "Transformability" macht den musikalischen Auftakt. Schnellläufig kommt "Transformability" daher. Das Bild von Wellenfolgen, die am Küstensaum auslaufen, nimmt Raum ein. Zugleich meint man, feinsten Nieselregen zu spüren. Und alles ist auf Wiederkehr ausgerichtet, so verdeutlicht es der Pianist des Trios. Rinnen, fließen, rinnen, fließen, strömen – das bringt die Musik zum Ausdruck. Eingebunden in einem steten Prozess begreift sich der Bassist, der seine solistischen Saitensetzungen über das Thema platziert, das der Pianist im Hintergrund konstant weiter spielt, ehe er das musikalische Geschehen wieder allumfassend bestimmt. "Nocturne" versinkt nicht in Wehmut und Schwermut, lässt aber die überbordende Leichtigkeit von "Transformability" vermissen. Bei diesem Stück wird deutlich, wie nahe das in Moskau beheimatete Trio der Klassik steht, ohne gänzlich im neoromantischen Fahrwasser dahinzugleiten. Vorstellungen von Abschied beschleichen den Zuhörer. Es scheint ein Abschied auf Zeit und mit Hoffnung verbunden. Verzweiflung ist aus den Melodielinien nicht herauszuhören, eine gewisse Tragik und vielleicht auch Traurigkeit schon.

Zu den Preludien, die sich an verschiedenen Stellen des Albums finden, führt der Pianist aus: ""I should say that all my preludes represent cinema scores. All these chamber pieces are born, as a rule, from the compositions that I write for cinema or TV." Getragen ist das "Prelude#4". Bündelt sich in diesem Stück nicht auch ein wenig Einsamkeit? Scheint nicht auch die Ausweglosigkeit angesprochen zu werden, verbunden mit einem schwachen Licht am Horizont, das Hoffnung macht? Nun zu "Reflection", dem namensgebenden Titel des vorliegenden Albums: Elektronische Effekte oder doch nur ein präparierter Bass, der da zu den Pianosequenzen zu vernehmen ist? – das fragt man sich bei den ersten Takten. Starke Basslinien des Pianisten verweben sich mit seinem perlenden Spiel; feines Saitenspiel scheint auf einem Klangteppich zu ruhen. Wie das Wasser eines reißenden Gebirgsbaches, der auf Felsen im Wasser stößt und diese umströmt, so könnte man mit einem  Bild beschreiben, was beim weiteren Zuhören erlebbar wird. Dies ist im Kern dem Spiel von Dmitry Ilugdin geschuldet. Er sorgt auch für eine gewisse Spieldramatik jenseits eines ineinandergreifenden Räderwerks.

Bei "Old Town" ist nicht die Altstadt von Edinburgh gemeint, Teil des UNESCO-Weltkulturerbes, sondern Jerusalem, wie man einem O-Ton von Dmitry Ilugdin entnehmen kann: "This is a very illustrative tune, depicting Jerusalem, a place that I love very much." Trommelschläge auf Toms und eine dumpfe Basstrommel markieren den Beginn des Altstadtbesuchs. Verhalten und gedämpft ist das Klavierspiel Ilugdins. Folgt man den Melodieschraffuren meint man, der Pianist folge den leisen Schritten einer Person, die neugierig die Stadt erkundet, mal in die eine, mal in eine andere Gasse schaut. Das geschieht in vollständiger Entspanntheit.
© fdp

Informationen


https://vrjazzagency.com/en/musicans/ilugdin/
http://www.losenrecords.no/