Guillaume Vierset : Harvest Group - Songwriter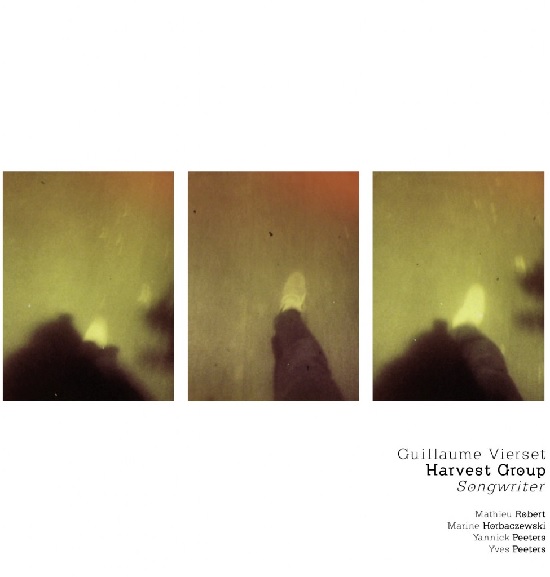 G
AZ Productions
Avec "Songwriter", Guillaume Vierset revient en quelque sorte à ses premières amours: s'il a étudié la guitare successivement avec Alain Pierre (Académie de Huy), Philippe Doyen (Amay) puis Fabien Degryse (Conservatoire de Bruxelles) et s'est dirigé vers le jazz, il a d'abord écouté du rock et fait partie de groupes pop et rock. Après le LG Jazz Collective, voici donc son Harvest Group: une toute nouvelle équipe.
Au saxophone soprano, le Montois Mathieu Robert, élève de Steve Houben au Conservatoire de Bruxelles (section francophone) et de John Ruocco (section néerlandophone): sa sonorité au soprano se rapproche de celle de Pierre Vaiana. Au violoncelle, Marine Horbaczewski, formée au Conservatoire de Liège (classe d'impro de Garrett List et de rock de chambre de Michel Massot), elle a fait partie de Wang Wei avec Manu Baily et poursuit une belle aventure avec le trio Massot-Florizoone-Horbaczewski comme avec l'Orchestra Vivo de Garrett List. A la contrebasse, Yannick Peeters, élève de Piet Verbist au Conservatoire d'Anvers, elle fait partie du trio d'Eve Beuvens, d'aNoo de la chanteuse Anu Junnonen et de Collapse. Enfin, à la batterie, Yves Peeters, révélé par le quartet de Peer Baierlein, il a dorénavant son propre groupe avec Nicolas Kummert (ts) et Frederik Leroux (g): ses deux albums "All you see" et "Sounds tracks" relèvent un peu de la même esthétique mêlant jazz et folk rock. Au répertoire, trois compositions du "songwriter" britannique Nick Drake (auquel Guillaume avait déjà dédié For Nick sur l'album "New Feel" du LG Jazz Collective): Time has told me repris à l'album "Five leaves left", Pink Moon de l'album éponyme de 1972 et Days is done. Ensuite, sept compositions originales, dont certaines dédiées à d'autres "songwriters" disparus: Around Molly dédié à Molly Drake, la mère de Nick, Eliot-t dédié à l'Américain Elliott Smith mais aussi Vacuum en mémoire à Mathias Lecharlier avec qui Guillaume avait formé le groupe The Green Dolphin's. Une musique intimiste, très axée sur la fugacité du temps. Guitare, soprano, violoncelle et contrebasse souvent jouée à l'archet (First act, Day is done) créent une atmosphère ouatée avec des sonorités irisées, des climats empreints de nostalgie. Une belle alchimie sonore dont émerge parfois un solo:ÂÂÂ soprano (Around Molly), contrebasse (The past of the flame), guitare électrique (The Time) ou acoustique (Pink Moon).
Une démarche très personnelle à la frontière entre jazz et folk rock. Un très bel album et une formation à découvrir en concert: Jazz à Huy, le 25 juillet (église Saint Mengold), à Namur, le 28 août.
Claude Loxhay
Article publié par jazzaround