Gregor Hilden - In Phase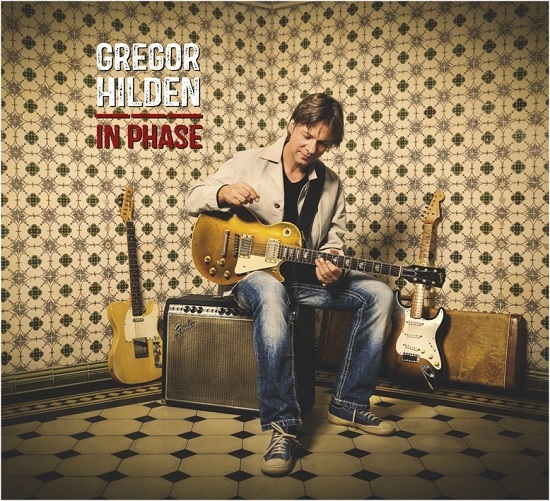 G
Acoustic Music, 319.1534.2, veröff. Jan. 2015
English abstract
It only takes listening to a few notes of this new instrumental album to make it clear that it is indeed a genuine Gregor Hilden CD. Brawny, dynamic guitar tones—created on selected vintage gear—subtle melodies, solid grooves, and blissful originals create the sonic picture that the German blues guitarist has already made a name for himself with. Almost 60 minutes in length, the album was recorded with a high-caliber cast of players, including Martin Engelien on bass, Dieter Steinmann on drums, Thomas Hufschmidt on piano, and Horst Bergmeyer on organ. Both keyboardists are long-time contributors to Hilden's projects, and their different styles are excellent compliments to one another. The album's cover tunes continue Hilden's tradition of coming up with original arrangements of classic songs. In this case, his fresh approach to Grover Washington's instrumental "Mr. Magic" is worthy of special mention. Overall, In Phase successfully blends bluesy pieces, tunes that have a jazzy soul vibe, and even some rock material that serves as a vehicle for Hilden and his band to stretch their chops. The album forms a colorful musical arc with great authenticity from beginning to end.
Der im Münsterland und darüber hinaus bekannte Gitarrist Gregor Hilden hat sich für seine jüngste CD nachfolgend genannte Musiker an seine Seite geholt: Thomas Hufschmidt (Keyboards), Horst Bergmeyer (B-3 Organ), Martin Engelien (bass) und Dieter Steinmann (Drums, Percussion).
Eingespielt wurden vor allem Kompositionen von Gregor Hilden, aber auch ein Titel von Ralph MacDonald und zudem einer aus Kenny Burrels Album 'Midnight Blue Year' (1963). Wer den MacDonald-Titel in der Einspielung von 'Sound of Drum' hört, der bekommt gewiss Calypso- und Karibik-Feeling. In der Instrumentalversion von Gregor Hilden klingt der Titel nach Funk und Soul. Dabei sorgt vor allem Horst Bergmeyer mit einem unnachahmlichen Klang der Hammond B3 für die Funky-Funky-Note. Der Titel groovt nach allen Regeln der Kunst, und man merkt, dass Gregor Hilden und seinen Mitspielern der (Rhythm 'n) Blues und der Funk auf den Leib geschneidert ist. Insbesondere das wechselvolle Gitarrenspiel Hildens weiß dabei zu überzeugen. Doch Hilden dominiert seine Band nicht, sondern lässt jeden auch bei Solos zeigen, was er so kann.
Das gilt auch für Thomas Hufschmidt, der im ersten Titel des Albums zu einem Solo ansetzt, unter das sich der volle Sound der Hammond B3 legt. Ein wenig in der Manier von Peter Green und Fleetwood Mac fliegen dann die Gitarrenriffs über die beiden Tasteninstrumente hinweg. 'Albatros' scheint nicht fern, obgleich wir 'Mr. Magic' begegnen.
Wer sich die Titelliste des Albums anschaut, wird in der Tat auf einen Song von Peter Green stoßen, den Hilden mit seiner Combo auf seine Weise interpretiert hat. Der Song heißt schlicht 'Fleetwood Mac'. Dies ist die vorletzte Nummer der CD, ehe es denn mit dem 'Farewell Blues – wie stimmig – heißt, Abschied zu nehmen.
Mag der eine oder andere bei Blues und Funk auch die rauchigen Stimmen von Muddy Waters oder Howlin' Wolf oder den Groove von Les McCann vermissen, wer sich für derartige Musik wirklich interessiert, der ist mit den Instrumentals wie denen von Gregor Hilden mehr als zufrieden. Auch die grooven! Außerdem ist man dann ganz und gar bluesig bei 'On Flair'.
'In Phase' ist nicht nur der Name der aktuellen CD, sondern auch ein Instrumentaltitel, der eher bedächtig daherkommt. Der Feierabend kann gewiss kommen. Chill-out ist angesagt, mit 'In Phase'. Sehr schön eingebettet ist das Solo des Keyboards in den 'Desert Song'.
Stets ausgewogen ist das Spiel von Gregor Hilden auch in den übrigen Titeln des Albums. Wohltuend ist es, wie er mit seinen Mitspielern agiert. Da ist kein Machogehabe zu verspüren. Die Musik ist insgesamt rund und stimmig, ob beim 'Blues From The Outer Space' oder bei der Adaptation des Burrell-Songs 'Chitlins Con Carne'. Dieser Song ist mindestens so eingängig wie Les McCanns 'Compare To What', ohne gleich von einem Ohrwurm zu reden! Das musikalische Menü à la Hilden macht alle satt, auch ohne Gesang. Stay tuned!
© ferdinand dupuis-panther
Titles
1 Mr. Magic (Ralph MacDonald) 5:45
2 In Phase (Gregor Hilden) 4:10
3 On Flow (Gregor Hilden) 4:14
4 Rock-Zabern (Gregor Hilden) 5:09
5 Desert Song (Gregor Hilden) 4:41
6 Springtime (Gregor Hilden) 4:31
7 Blues From The Outer Side (Gregor
Hilden) 4:46
8 Chitlins Con Carne (Kenny Burrell) 4:42
9 Naylor's Blues (Gregor Hilden) 5:30
10 Greg's Funk (Gregor Hilden) 3:08
11 *'63" (Gregor Hilden) 1:33
12 Fleetwood Mac (Peter Green) 3:57
13 Farewell Blues (Gregor Hilden) 4:48
Informationen
Label
http://www.acoustic-music.de/
Band
Gregor Hilden
www.gregorhilden.de