Grencsó Open Collective with Rudi Mahall - Marginal Music / Rétegzene (Claude Loxhay)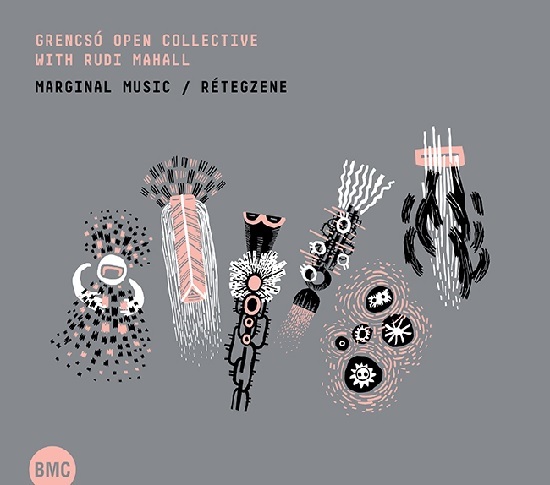 G
BMC
Voici un album qui réunit deux anciens invités du festival Jazz Brugge: le poly-instrumentiste hongrois István Grencsó (présent avec son Open Collective en 2010) et le clarinettiste allemand Rudi Mahall (au sein du quintet d'Alexander Schlippenbach, pour un répertoire Monk, en 2008).
István Grencsó (ts, ss, bcl, fl) est un des musiciens phares du jazz contemporain en Hongrie: il a fait partie du quatuor de saxophones Del Aföldi que l'on a pu voir au Gaume Jazz Festival, il y a quelques années, il a côtoyé le saxophoniste free Peter Brötzmann, joué au sein du Trio Contraszt, avec Stevan Kovacs Tickmayer (p) et Tamás Geroly (perc) mais aussi fondé son Open Collective dès 1984. A l'actif de cette formation à géométrie variable, pas moins de 10 albums dont "Flat" de 2014, chroniqué lors du long article consacré au Budapest Music Center d'octobre 2014.
A ses côtés, Máté Pozsár au piano, Róbert Benkó et Ernó Hock à la contrebasse, Szilveszter Miklòs à la batterie et, en invité, Rudi Mahall (cl, bcl). Membre du Globe Unity Orchestra, Rudi Mahall a enregistré plusieurs albums avec Alexander von Schlippenbach (p) et Axel D[orner (tp): "Monk's Casino" (tout le répertoire de Monk en trois albums) et un "So long Eric" dédié à E. Dolphy. Il a aussi côtoyé la pianiste japonaise Aki Takase (album "Evergreen").
Au répertoire de l'album, sept composition du leader et deux courtes improvisations collectives (Volatil Blue et Volatil Yellow). Grencsó use, avec science, des multiples alliances sonores qu'offrent les deux souffleurs: ténor/clarinette basse ((From Beyond the Margins et le très coltranien John's Memorial Volume), soprano/clarinette (Dewfall et April 13 en hommage à Steve Lacy), clarinette/clarinette basse (Collective Ploughing, Take your time), flûte/clarinette (Volatil Blue). Grâce à l'apport des deux contrebassistes, il oppose aussi souvent jeu à l'archet et pizzicato (Dewfall, Take your time).
Enfin, il oppose, avec subtilité, tempo survolté ((From Beyond the Margins, Collective Ploughing) et climats plus sereins (Take your time et ce Give as God joué à la seule clarinette).
Un bel exemple de la vitalité et contemporanéité du jazz hongrois.
De son côté, le programme de l'Opus Jazz Club démontre un évident sens de l'ouverture: s'y sont succédé dernièrement la violoniste Iva Bitovà, les Français Rémi Sciuto (sax) et Vincent Courtois (cello), l'Allemand Daniel Erdmann (ts), les Roumains du Sorin Zlat Trio et les Italiens du Siena Jazz Quintet.