Grencsó Open Collective "Local Time"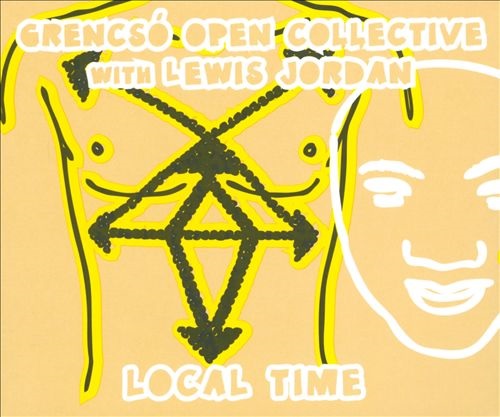 G
BMC
Until two years ago István Grencsó was totally unknown to me. I first heard his music at the BMC recording "Homespun in Black and White" with his Open Collective. The power and dynamics of this coherent playing ensemble immediately overwhelmed me. Their live set at the Budapest Jazzforum 2010 and a couple of weeks later at the Jazz!Brugge festival was a confirmation of their quality. The band has a very particular lineup with two double bass players: Róbert Benkó and Ernö Hock. The latter doubles on electric bass guitar adding some special effects that provide some extra bite to the total sound. Together with drummer Szilveszter Miklós they form a solid base for adventurous improvisation. Dave Wayne (in 'Jazz Review') considered István Grencsó as "one of the iconoclasts who write and perform vital, socially-conscious new music which is as cutting-edge as anything going on in New York City." The music on this album is hard core jazz (to paraphrase the late Art Blakey) indeed, with a pinch of blues and experimental rock, but always with respect for the tradition.
The CD opens with the melancholy "Over the River, Under the Bridge" with the tortured electric bass guitar solo intro creating a desolate atmosphere. There's unison blowing, with István on bass clarinet and a small trio improvisation (double bass, bass guitar and drums) leads to Lewis Jordan's "Poem for the Homeless".
The title track is a joyful, steaming and muscular composition that features both Ernö Hock (bowing his double bass) and trombonist Hans van Vliet in some intense blowing. I really like the way Jordan recites his poems. It reminds me of the classic album "Weary Blues" (1958) from Langston Hughes with Charles Mingus. Here he declaims "People I don't Like". His poetry is accessible and revealing. It's evident Lewis adores playing with words but never forgets what they are standing for: communication, interaction, understanding.
"Take your Time", that opens with a short bass clarinet solo, is a delicate lament with an appealing dialogue of the two double basses.
"At Large" is Lewis Jordan's composition (named after his performance series 'Music At Large' in which he has collaborated with dancers, poets, visual and theater artists such as Anthony Braxton, Karlton Hester, Jon Jang, James Newton, Genny Lim, Cecil Taylor, Ntozake Shange, Lisle Ellis, and Istvan Grencsó). It opens with a nervous dialogue of the saxes and trombone. They continue improvising over the monotone bass line. The creative drumming gives this composition extra color thanks to the odd time signatures.
"Led" is without any doubt dedicated to Led Zeppelin. In the introduction there's a fragment from 'Dazed and Confused' with the typical John Bonham touch added by Miklós. They continue with imaginative improvisations. István's tenor playing is raucous and squealing.
"Let Bygones Be Bygones" again has Lewis Jordan reciting poetry over the double basses in a dialogue with Van Vliet's trumpet giving extra depth. A piece that again proves the coherency of this band.
Hans Van Vliet's "Better Alone Than Apart" is a swinging composition with a couple of enjoyable tempo changes. There is also a warm solo on duduk (a double reed instrument of Armenian origins) by the leader himself and Van Vliet excelling on the trombone.
In the blues "Sugar Free" Róbert Benkó is setting the pace and Ernö Hock's painting dreamy soundscapes on his bass guitar.
"Pedal Up" is a strikingly fresh arrangement from the Rahsaan Roland Kirk (1936-1977) classic with rapping by Hans van Vliet. All sax solos have extremely strong dynamics. Once again the rhythm section is the spine that makes it easy to solo around.
"Lord I'm Coming Home" starts with an intense saxophone solo. This arrangement from the hymn by William J. Kirkpatrick (1838-1921) includes Lewis' poem 'Old School'. It's completely in the spiritual atmosphere of the late Albert Ayler.
Jos Demol
Jazz'halo & Jazz!Brugge
January 12th, 2011