Gregory Porter - All Rise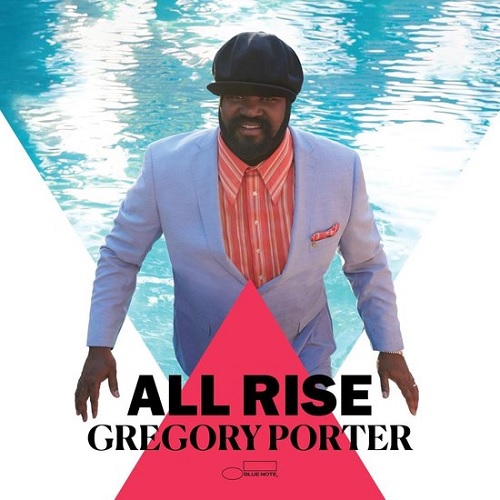 G
Blue Note/Universal
Depuis son premier titre marquant sur l'album « Water »  (label Motema) en 2009 – le puissant « 1960 What ? » toujours présent en rappel de ses concerts -, Gregory Porter nous a habitués à des chansons qui marquent les esprits.
Dans le genre, c'est l'album « Liquid Spirit » qui remporte la palme avec « Hey Laura », le visionnaire « Musical Genocide », « Free »…  Aussi « Take Me To The Alley » et sa vision d'un roi – le pape en réalité – qui rend visite à sa famille dans sa misérable ruelle. La suite nous a un peu laissé sur notre faim : un (très bel) hommage à Nat King Cole  a prolongé l'attente de compositions personnelles et de textes aux paroles lourdes de sens, et deux albums « live » nous ont rappelé combien les performances en public du chanteur étaient riches en émotions.
« All Rise » est bien dans la lignée de « Liquid Spirit » et « Take Me To the Alley » : un disque sans concession, et qui réussit le tour de force de pouvoir passer dans les programmes « tout public ». Surtout ne pas faire la fine bouche sur ce dernier point : on a tellement peu l'occasion d'entendre du vrai jazz aux grandes heures d'écoute (penser à l'instant que les deux heures de jazz de l'excellent Philippe Baron sont reléguées à des heures de peu d'audience me révolte, et je ne peux m'empêcher de craindre le pire à son départ, prémisse d'un naufrage de la musique bleue sur les ondes ?).
Bon revenons-en à ce bon, très bon disque de Gregory Porter..
Ecoutez « Revival Song », avec ses airs de « Work Song » (la composition de Cannonball Adderley, lyrics de Oscar Brown Jr) en intro, un titre puissant, enlevé, ancré dans la réalité américaine d'aujourd'hui – il faut regarder le superbe clip réalisé sur ce titre mêlant images de répression policière et superbe chorégraphie. « If Love is Overrated » est une ballade à faire craquer, avec un super solo de soprano, « Thank You » est une célébration finale qui sans doute prendra la place de « 1960 What ? » en rappel. « Long List of Troubles » et « Merchants of Paradise » montrent les inquiétudes d'un homme profondément impliqué dans l'humain. On peut citer tous les titres de cet album et rappeler que Gregory Porter en est le compositeur, et qu' il les chante avec une force et une émotion à couper le souffle, ce type est vraiment incroyable ! Le genre de jazz qui sera unanimement apprécié par ceux qui sont accro au jazz et par les autres, une vraie performance !
« All Rise », c'est tout le monde se lève pour protester et tout le monde se lève pour saluer ce grand chanteur. On lui dit « Thank You ».
© Jean-Pierre Goffin